New Castle cop faces hearing in death of Chico
Chico Memorial Service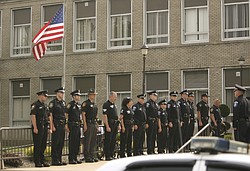 Gallery
NEW CASTLE, Pa. — Nearly 50 police dog units from a 99-mile radius from around the state, came here today to pay tribute to Chico, the 6-year-old Dutch shepherd, found unresponsive by his handler in the back of a hot, parked cruiser Saturday
Staff report
NEW CASTLE, PA.
A date has been set for a hearing to determine the fate of a police-dog handler whose dog died after being left unattended in a hot cruiser.
City council will meet at 5:15 p.m. July 20 in council chambers at the city building to decide whether Officer James Hoyland should be fired.
Hoyland handled Chico, a 4-year-old Dutch shepherd. The dog died June 4 after Hoyland left him in the back of his K-9 cruiser at 4 p.m. while he took another vehicle to an extra housing-
project shift. When he came back to the police station to start his regular shift nearly four hours later, he found Chico unresponsive in the back of the crusier. The dog died despite emergency vet care.
Police Chief Tom Sansone has said the car was running, but the air conditioning likely shut off after the car idled for about two hours. He said a device called a hot box, which sounds an alarm and automatically lowers the car windows if it gets too hot inside, was working fine. He said it may not have been turned on.
Hoyland has been on unpaid leave since the dog died. Under civil service law, the city council must decide whether he deserves up to 30 days' suspension or if he should be fired.
Sansone said the hearing likely will not be open to the public. It is closed unless the officer requests it be open, he said. He said he does not know if Hoyland will do that.
He said the council will probably not make a decision the day of the hearing. He said New Castle Atty. Phillip Clark is moderating the hearing, and the council will wait for his input, he said.
Sansone said the department will probably get a new dog. He said it is waiting to hear what insurance will cover regarding Chico, and there have been donations toward a new dog.
Donations can be made to Chico Memorial Fund, c/o First Commonwealth Bank, 27 E. Washington St., New Castle, Pa., 16101.