Fellows Riverside Gardens hosts bridal event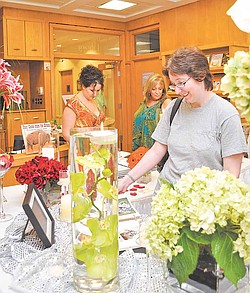 Photo
Bride-to-be Emily Smith of Warren, foreground, and Sarah Hahn, left, with mom, Barbara, view samples of flower arrangements from A Floral Aff air at the 2011 Bridal Fair at the D.D. and Velma Davis Education and Visitor Center at Fellows Riverside Gardens, Mill Creek MetroParks, Youngstown.
By Sean Barron
YOUNGSTOWN
By all accounts, it appears that next June will see Lisa Briceland taking a few special walks, though not merely for exercise.
For one thing, Briceland will walk across the stage to receive her degree from The Ohio State University's College of Dentistry, with the goal of becoming a dentist.
In addition, the Columbus woman is to walk down the aisle to get hitched.
"I got some good ideas," said Briceland, referring to Sunday's bridal fair in the D.D. and Velma Davis Education and Visitor Center at Mill Creek MetroParks' Fellows Riverside Gardens, 123 McKinley Ave. "I'm just starting to plan my wedding."
Even though her June 16, 2012, marriage to her fianc , Steve Kolp, is more than 11 months away, Briceland figured Sunday's four-hour show wouldn't be too soon to get ideas to accent and enhance her big day. To that end, she was looking at possibilities for a photographer, a caterer and flower arrangements.
Briceland, whose parents live in Canfield, remembered having met Kolp about three years ago through a mutual friend. At first, she didn't seem too interested in him, but perhaps fate and good timing had another agenda.
"I ran into him more and more," she fondly recalled. "Finally I said, 'I see you everywhere.'"
Accompanying Briceland was her future mother-in-law, Barb Kolp, of North Canton.
The event, themed "A Garden Wedding," featured numerous floral arrangements with roses, hydrangeas, lilies, orchids and a small weeping cherry blossom tree. Some were complemented with candles.
Dozens of soon-to-be brides took time looking at merchandise and getting ideas related to flower arrangements, musicians, disc jockeys and photographers. On the sweet side of things, plenty of cakes, as well as a cupcake combination, were available.
The food choices didn't end with desserts, however.
Some women took an interest in the drink mixes, spices and other items Jessica Oates had on her table.
Oates, a local consultant for Alexandria, Minn.-based Tastefully Simple, enjoys preparing and selling beer bread, one of her specialties, from her Columbiana home. The straightforward recipe is a hit at many wedding parties and requires simply a can of beer and bread dough mixed for about 20 seconds, then 50 minutes in the oven, Oates explained.
Tastefully Simple, established in 1995, is a direct-sales company that offers a variety of easy-to-prepare foods intended to help people spend less time in the kitchen, she noted.
Other attendees took interest in the many centerpieces being sold by MaryeKay Erickson and her daughter Peggy Colantone, who run Center of Attention, a seven-year-old Austintown business that specializes in trendy and affordable wedding designs.
"We save the bride not only time, but money with our rentals," Erickson explained, adding that she runs a showroom from her home.
May through October is peak time for Center of Attention, which is a member of the Mahoning Valley Wedding Network, a group of wedding professionals in the Valley, Erickson continued, adding that the business also specializes in customized candy buffets and wedding accessories, among other things.
More couples are supplementing traditional photography with videography for their wedding ceremonies, which is where Pierre and Sonia Khoury come in.
The couple owns Cherished Moments, a 9-year-old full-service video-production company that uses black-and-white, color toning, sepia and special- effects styles. The Boardman business provides services for weddings and receptions, graduation parties, school events and baptisms, Sonia Khoury noted.
The bridal fair also featured door prizes and a wedding fashion show in the gardens.