2011 Tour of the Valley ends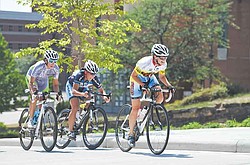 Photo
Jane Weekly pulls ahead in the last lap to win the women's criterium during Sunday's Tour of the Valley race at YSU. Christine Schryver was the overall winner of the event.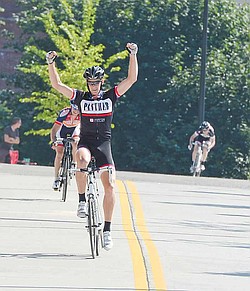 Photo
Paul Martin of the Panther Trucking race team took first place during the final event of the 2011 Tour of the Valley, the men's criterium.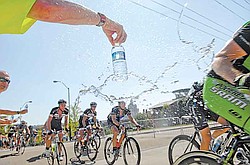 Photo
Volunteers pass bottles of water to racers during the men's Criterium on the final day of the 2011 Tour of the Valley on Sunday afternoon. More than 340 cyclists took part in the event.
Paul Martin held off Tom Burke to win the Tour of the Valley bicycle race
By Greg Gulas
YOUNGSTOWN
With temperatures exceeding 90 degrees, you'd almost expect some bicyclists to pull back their overall game with the hopes of surviving the grueling third day of the area's Tour of the Valley bike race.
Such was not the case on the final day of competition, which was held Sunday on the campus of Youngstown State University.
"We're so very proud of both the event and the support that it has received. The support by the community and the endorsement by the riders has been nothing short of amazing," Erin Quinlan, co-director said.
Paul Martin, a four-time national champion and three-time runner-up captured top honors in the men's pro category 1-2 competition while Erik Hamilton of Indiana was the overall group winner.
"All I can say is that it's a great weekend," said Martin, a North Royalton resident. "It's really great to have a quality race like this so close to home.
"Dan [Quinlan] and Erin [Quinlan] are excellent cyclists doing something great for the community.
Martin said it was a "short, challenging race" and said he enjoyed going head-to-head with Tom Burke.
"We both race the pro-am circuit and know each other really well," he said. "However, with a number of my teammates in the field I would say that I might have had the slight advantage today."
Burke, a native of Grand Rapids, Mich., said he gave it his all while calling Martin one of the tops in bicycle racing.
"I've been a part of the Tour of the Valley race all three years and love the format," Burke said. "I like the stage races and time trials and can honestly say that today's course was rather challenging.
"Paul [Martin] is the strongest in the field and quite frankly, no one rivals his strength. He's tough to beat and if you can hang on to his wheels, you should be happy with a second-place finish."
Christine Schryver of Rochester, N.Y., was the overall winner in the Women's Category 1-2 event despite finishing seventh in Sunday's event.
"Friday's time trials won it for me," she said. "My goal was to finish in the pack and that was enough for me to win.
"My team, Full Moon Vista, stayed at YSU's Cafaro House and all I can say is that it was a great, central location for everything that was going on all weekend. I have an awful work week ahead of me so it is going to be tough, yet fun to switch gears from ride mode to work mode."
Ed Howley, a Youngstown native and tournament volunteer who is a member of Youngstown's Outspoken Wheelmen, led the 25-mile community ride for the second straight year.
"We had nearly 50 riders, which is up about 20 participants from last year so that in itself was great," he said. "I did this last year and they just assumed I would do this once again. They were right.
"We are always looking for volunteers so I plan on returning again next year, hoping that we can recruit new volunteers as well."
Alan Bayowski, a 1969 graduate of Ursuline High School, took in the event after recently returning home from Cincinnati where he spent 35 years working with the elderly.
"This is my first Tour of the Valley and I cannot wait until next year's event. It's certainly one of the great events going on in Youngstown and I love the fact they are tying it in with both YSU and the downtown Area," he said. "Having grown up here, going away and then returning home we really have quite a bit of which we should be proud."
Jane Weakley, a Kettering resident and native of South Hadley, Mass., was the winner of Sunday's Category 1-2 event.
"The first day for me was devastating as I made some crucial mistakes that really cost me," she said. "I was determined to win Saturday's road race and did, but today woke up not feeling so well so it was a real challenge.
"With about 20 minutes to go I felt great, let it kick in and was able to finish strong. It sure was a great three days of racing."