'The Goat' Playhouse production will push buttons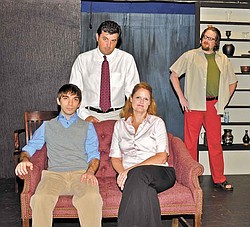 Photo
Cast of "The Goat, Or Who Is Sylvia?" includes John Cox, top left, plays Martin, David El'Hatton top right, plays Ross. In front row, Paul Sauline plays Billy and Kris Harrington plays Stevie, Martin's wife. The play at The Youngstown Playhouse runs Thursday through July 17 and is directed by Johnny Pecano and stage managed by Susi Thompson.
IF YOU GO
What: "The Goat, or Who is Sylvia?"
Where: The Youngstown Playhouse
When: 7:30 p.m. Thursday through Sunday.
Tickets: Call 330-788-8739. All tickets will be $10 for Thursday's performance (instead of the regular $15)
John Pecano is one of those multi-hyphenate talents whose prodigious body of work — as an actor, and tech wizard extraordinaire — in area theater makes everyone else seem like a slacker.
Whether turning in brilliant performances in plays as diverse as "The Pillowman," "The Glass Menagerie" and "The Elephant Man" (which won him a YACTA Best Actor award last season), or working behind the scenes with Jim Lybarger designing and building the Youngstown Playhouse's amazing sets, Pecano is truly a force to be reckoned with.
With the upcoming Playhouse production of "The Goat, or Who is Sylvia?" Pecano will be donning another hat: director.
In a recent interview, Pecano discussed his affinity for "Goat" author Edward Albee, and why helming a show in the summer months can be a director's worst nightmare.
Q. Yasmina Reza's "God of Carnage" was originally scheduled to close out the Youngstown Playhouse's inaugural Griffith-Adler season. How did Edward Albee's "The Goat, or Who is Sylvia?" wind up in the closer slot instead?
A. We put "God of Carnage" on the 2010-11 schedule right after its Tony wins, expecting that the rights would be released in time to premiere the show locally. It closed over a year ago, and normally the rights would have been released shortly thereafter. But for whatever reason, they kept delaying it, asking us to keep re-applying. A couple of months ago we were denied again, so I decided it was best to move on to something else. "The Goat" was chosen as a replacement because I knew the script, and it was a recent Tony winner, just like "Carnage."
Q. Your last directing assignment was an acclaimed 2008 New Castle Playhouse production of Albee's "Who's Afraid of Virginia Woolf?" Are you worried that people may start pigeonholing you as the "Albee Guy"?
A. Hey, I have no problem being labeled the "Albee Guy" (laughs). There's something about Edward Albee that just clicks with me. The way he structures his biting dialogue, the phrasing, the words: it's all like music to my ears. Add in the fact that he basically brought "The Theatre of the Absurd" to American audiences, and you've got my playwright hero. His career and numerous awards over 50-plus years proves his staying power, and he's truly one of the greatest American playwrights. I do have interests other than Albee, though. This October, I'll be co-directing "To Kill a Mockingbird" at the Playhouse with the amazing, multi-talented love of my life, Candace DiLullo.
Q. The peculiar title makes "The Goat" sound like a Jeopardy question (and answer). Who is Sylvia the goat? And what's her story?
A. Sylvia is the most attractive, enthralling goat you could ever hope to meet (laughs). Well, at least she is in ("Goat" protagonist) Martin's eyes. In typical Albee fashion, she represents a whole lot more, though. Sylvia may be seen as "Tolerance" or "Understanding," or even "Disaster" or "The Unforeseen." There's actually an additional sub-title to the play: "(Notes toward a definition of tragedy)." The word "tragedy" comes from the Ancient Greek for "goat song," so there's a fun little fact for you (laughs). The play itself borders on the absurd, yet it's very straightforward. There's really none of Albee's normal ambiguity in the plot, and it's really quite humorous. He puts the action right in your face, then adds some, then adds some more until the end where the audience is left asking itself quite a few philosophical, ethical and societal questions. "The Goat" provokes, challenges, pushes buttons, shocks and even manages to make the audience laugh while doing so.
Q. "The Goat" marks the third pairing of actors John Cox and David El'Hatton on area stages in the past nine months (they previously teamed up for the Oakland Center for the Arts' "Speed-the-Plow" last October, and January's YP "Pillowman"). Was it a deliberate choice to reunite them again for the sake of fraternal thesping continuity? Or is just really difficult to cast plays in the summer?
A. You'd be hard-pressed to find better local talent than John and Dave. But they both deserved a well-earned break — or so I thought. Many actors expressed interest in auditioning because it's never been done locally. But after looking at the dates, all of them had major conflicts. It's prime vacation time, and it seems like everyone picked mid-July to go out of town this year (laughs). I had to ask John and Dave for a favor, and I can't thank them enough for coming to my rescue. Their chemistry on stage is quite remarkable, and I can guarantee that their big scene together will have you both laughing and gasping.
Q. One last question for any of our readers who might be PETA members: Were any goats harmed in the making of this play?
A. Absolutely not! If anything, we love them all the more now, and they've become quite the hot topic for conversation (laughs).