Tour of Valley gets under way with time trials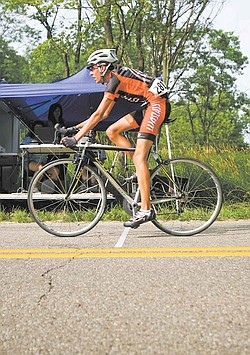 The Vindicator ( Youngstown)

Photo
JESSICA M. KANALAS | THE VINDICATOR..Cyclist Daniel Lausin finishes his time trial for the Tour of the Valley at the Mastropietro Winery Inc. in Ellsworth. The Tour of the Valley features about 300 pro and amateur racers with the course running across the Mahoning Valley, through Columbiana, Ellsworth and Youngstown...-30-
By Greg Gulas
ELLSWORTH TOWNSHIP
They come in all sizes yet have one defined shape.
They hail from as far west as San Luis Obispo, Calif., and far east as Rochester, N.Y.; as far north as Toronto and far south as Austin, Texas.
All have one goal in common, however, and that is to win their division in the third annual Tour of the Valley, which kicked off its three-day competition Friday at Mastropietro Winery.
"The Tour of the Valley began as an eco-friendly event that has grown to become the largest competitive cycling stage race in Northeast Ohio.
"This annual event presents an impactful community opportunity that unites individuals, families and civic leaders in making greener choices, all the while proving that Youngstown is rich in diversity, heritage and hope," said Dan Quinlan, co-organizer of the event.
With direct competition from a similar event in Altoona, Pa., which featured a week-long pro ride and three-day amateur competition, this year's local competition exceeded all expectations by drawing 300 pre-registered entrants and 20 the day of the event.
Of the 320 total competitors, 280 were male with increased female participation numbers.
"We were nervous because of the Altoona competition. We had a silent competition and I feel like we beat them with the overall registration," Quinlan's wife, Erin, co-organizer of the competition, said.
"We increased our female numbers this year and are really excited because we keep on growing. We just want to build off of this year's numbers next year," she added.
Eight groups competed Friday on the 8.5 mile prologue type course while added this year are the Juniors and Masters competitions, and the splitting of the women's category.
"We've drawn more in the 50-plus category this year than total Masters participants a year ago," Erin Quinlan added.
David Wenger, a 1998 South Range graduate and resident of Austin, Texas, is happy to be home yet welcomes the three-day competitive challenge.
"I'm just happy to be back in the Mahoning Valley but as far as the race goes, it's a very high level of amateur racers; highly motivated which means that you have to be at your very best all weekend.
"Placing today is secondary to the effort itself. I just think of it as wanting to do my best as I look forward to the next two days of competition," Wenger said.
Cleveland's Brain Batke, a 50-plus member of the local Carbon Racing team, agreed with Wenger.
"Each rider today tries to beat their previous best time. If they do that, then it's been a successful night," Batke stated.
The entire group will most assuredly forgive Lakewood's Matt Bockbrader if he falls just short of attaining his goal.
A 1988 graduate of Lakewood High School, he was working as a deck hand two weeks before graduation and as his group was landing at Marblehead, which is located about 20 miles from Cedar Point, his leg was cut off between the knee and ankle in a mooring accident.
For about 15 years, he didn't do much of anything but when he decided to get back into shape and started to eat right once again, he found biking as a release and a way to get back into the competitive mainstream.
"About five years ago I started to gravitate to people that I knew who raced bikes and was hooked.
"A coaching friend, Jim Cunningham of Greenville, S.C., felt that I had paralympic potential. I had never thought of it in that respect because I never thought of myself as disabled," he said.
"He helped to get me an invite to a training camp this past January in Birmingham, Ala., and I then competed at the U.S. Paralympic Nationals, which was held in conjunction with the Elite Nationals in Augusta, Ga.
"I missed the time cut in the time trials but finished third overall in the road race, which was held at the Fort Gordon Army Base.
"That was truly a sense of accomplishment for me," Bockbrader added.
Competition continues today beginning at 9 a.m. in Columbiana when riders will compete in the eight respective categories.
The top men's Category 1/2 riders will begin at 11 a.m. while top women riders will begin at 11:25 a.m.