Poland Relay teams fight back, celebrate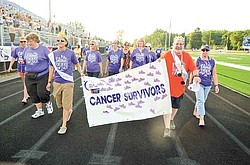 Photo
Cancer survivors take the fi rst lap of the evening on Friday to kick off Poland's Relay for Life fundraiser.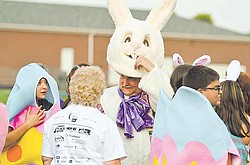 Photo
Larry Means of the team Clark's Crusaders dressed as an Easter bunny Friday at Poland's Relay for Life.
The 2011 Poland Relay for Life continues until 6 p.m. today at Poland Seminary High School on Dobbins Road. Today's events, activities and times:
Car and bike show, 10 a.m. to 2 p.m.
Oreo stacking
contest, 11 a.m.
Little Mister and Little Miss Relay pageant, noon.
Frozen T-shirt contest, 2 p.m.
Karate demonstration, 2:30 p.m.
Talent show, 3 p.m.
Source: Poland Relay for Life
By Sean Barron
POLAND
If you watch 3-year-old Gianna Bindas in action, you see a fun-loving, robust little girl who loves to blow bubbles, cheer for the Ohio State University Buckeyes football team and catch fireflies.
All of that, however, belies the fact that at 9 months, Gianna was diagnosed with cancer.
"The doctor dropped the C-word the same day we went for [Gianna's] ultrasound, recalled Gianna's mother, Michelle, during Friday's 2011 Poland Relay for Life event at Poland Seminary High School, 3199 Dobbins Road.
"The size of her tumor required 21 weeks of chemotherapy."
Twenty teams with names such as Team Bonkers, Clark's Crusaders and Gianna's Dream Team took part in the gathering, themed "Celebrate, remember, fight back." It continues until 6 p.m. today at the school.
Hundreds of participants walked to raise money for the American Cancer Society and honor loved ones who have died from the disease, as well as survivors.
Gianna and her parents were among the 10 members of Gianna's Dream Team.
Michelle Bindas recalled having felt her daughter's distended stomach, the first sign something was wrong. A short time later, Gianna was diagnosed with Wilm's Tumor, a form of kidney cancer that led to the removal of her right kidney.
For a while, Bindas said, Gianna underwent two types of chemotherapy, which made the girl ill. Thanks to her treatments, though, Gianna is healthy and was able to attend a preschool program at Poland Union Elementary School, Michelle Bindas said, adding that her daughter only goes now for six-month checkups.
"She's my dream daughter, the love of my life," added Gianna's father, Tom.
So, what does Gianna want to do when she grows up?
"I want to be a doctor to help someone," she said.
Also wanting to help others is Kelly Ghizzoni, 29, of Hubbard, who was diagnosed in 2004 with Hodgkin's lymphoma, a type of cancer that originates from white blood cells and is characterized by the spread of the disease from one group of lymph nodes to another.
Ghizzoni, who received the news the day before her 22nd birthday, recalled having no symptoms, except a few lumps in her neck. A biopsy, however, revealed cancer in that region.
Calling her disease "a bump in the road," Ghizzoni forged ahead and, with support from family and friends, graduated in August 2004 from Youngstown State University with a degree in hospitality management. The cancer has been in remission about six years, said Ghizzoni.
Ghizzoni said she views her disease in positive ways, one being that the experience brought her family closer together.
Ghizzoni also was this year's Poland Relay for Life queen. The event king was Bill Buckler of Poland.
Cancer survivors in purple shirts were among those who kicked things off by walking the outdoor track to the Celine Dion song "I'm Alive."
Speaking during the opening ceremony was Sandy Gunn, 66, general manager of the North Lima-based East Fairfield Coal Co., who shared his challenges with colon and prostate cancer. Also making remarks was Mahoning County Commissioner Anthony T. Traficanti.
The event featured a "tent city" in which most teams sold prize tickets, food and other items to raise funds for the cancer society, noted Mary Jan Perdulla, a Poland Relay for Life committee member.