Governor John Kasich lashes out at critics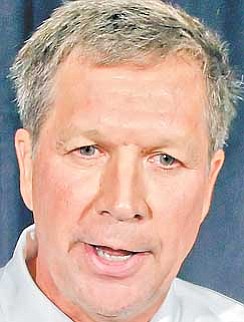 Photo
COLUMBUS
Gov. John Kasich is fuming at some of his detractors — the ones filing lawsuits and playing politics with his agenda.
He's angry at the folks from Progress-Ohio and Democratic lawmakers who forced his hand on Mark Kvamme, the governor's Silicon Valley venture capitalist friend who was pushed out of the Ohio Department of Development because he was not an Ohio resident.
He's mad at Democrats who are yelling about unfair legislative procedures and closed-door budgeting and policy changes made without input from the minority party.
He's not happy that so few Democrats are willing to vote "yes" on Republican-backed legislation that he supports in his quest to help Ohio rebuild its economy.
Partisanship
He called the level of partisanship in Ohio "breathtaking" and nothing like the atmosphere during his days in Congress.
"What's happening in Ohio now is if you don't win, you sue or you make a public records request, slow down the process," he said. "It's all in the pursuit — the selfish pursuit — of power."
Kasich made the comments the day after he signed a $56 billion budget assembled by his administration and GOP lawmakers and packed full of law changes that he believes will create a foundation for the future economic growth of the state.
Kasich is quick to remind people of his days in Washington, D.C., when he sided with Democrats on some issues and went as far as to offer his own federal budget when he didn't agree with the one being pushed by his own party.
He also will point out that Statehouse Democrats have offered support for some of his initiatives. Examples include the prison sentencing reform package he signed into law late last month and the creation of JobsOhio, the private nonprofit that will eventually take control of the state's economic development programs. Many of the few Senate Democrats voted for those two bills.
But Kasich is ticked off that few Democrats joined the majority Republicans in changing state laws to allow increased oil and gas drilling in state parks.
Sen. Jason Wilson, a Democrat from Columbiana, was the lone member of the minority to vote in favor of the legislation in the Senate.
"Do you know the damage that these folks can do to job creation in the eastern part of the state?" Kasich said of the lawmakers who voted against the bill. "Do you know how many families' lives can be wrecked if these people are irresponsible and partisan?"
It's apparently not because Democrats don't support the governor. Kasich said members of his administration and Republican legislative leaders have heard from Democrats who want to support his agenda — "We'd like to vote for this thing, but our leadership just won't let us. And you know what I don't understand about that? Why [don't] any of them want to be leaders?"
Political fear
He added, "A lot of these Democrats that are hiding in the shadows, afraid they're going to get a primary or being threatened, it's very disappointing. But I'm not giving up on them."
In the end, the detractors don't appear to be affecting Kasich's progress. The governor named Kvamme his top jobs adviser, and the latter reportedly stands ready to head JobsOhio, if asked. And Republicans have more than enough votes to ensure the passage of the governor's policies, whether Democrats support them or not.
Which means if Kasich's plans end up leading to job growth, lower unemployment and increased economic development in Ohio, he and Republicans will get all of the kudos.
And if they fail, they'll have to shoulder most of the blame.
Marc Kovac is The Vindicator's Statehouse correspondent. Email him at mkovac@dixcom.com or on Twitter at OhioCapitalBlog.