Scrappers take Williamsport 8-3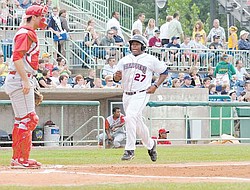 Photo
Williamsport catcher Bob Stumpo watches as Mahoning Valley's Bryson Myles gets ready to cross home plate for the first score of the night at Thursday's game at Eastwood Field in Niles. The Scrappers defeated the Crosscutters, 8-3.
NY-PENN LEAGUE
SCRAPPERS 8
CROSSCUTTERS 2
Next: Mahoning Valley vs. Williamsport, today, 7:05 p.m., at Eastwood Field in Niles
Three-game skid ends with win at Eastwood
By Jon Moffett
NILES
You won't find K.C. Serna reading comic books anytime soon. You probably won't find him watching Saturday morning cartoons, either.
Still, even Serna can admit that everybody has a little bit of nerd in them. And it was on full display Thursday at Eastwood Field for Superhero Night.
"I wouldn't say I'm into comic books exactly, but I really miss the old [superhero] cartoons," Serna said. "The cartoons of today just aren't the same. They've really gone down, in my opinion."
WHAM! POW! ZING!
A potent offense and stout defense combined with effective pitching to propel the Mahoning Valley Scrappers to an 8-3 win over the Williamsport Crosscutters. The win broke a three-game slide for the Scrappers (12-9) and put them within a game of first place in the Pinckney Division of the New York-Penn League. The Crosscutters (10-11) are in fifth place of the six-team division.
Manager David Wallace said he was not only happy with the win, but with the virtually flawless defensive effort by his team. Defense, he said, sets the tone for the entire game.
"I thought we played a good, clean defensive game. And that was good to see," the first-year manager said. "We've kicked [the ball] around a little bit the last week or so and I know those guys have been working hard. And it was good to see them show it tonight."
The Scrappers didn't commit an error and caught a Crosscutter runner stealing. The visitors had three miscues.
Wallace, a stickler for defense, said it gives the entire team super powers when the defense is flexing its muscles.
"It's all about getting momentum and keeping it," Wallace said. "[Starting pitcher] Joe Colon did a good job of going out there and getting us back in the dugout quick, especially after that first inning where we put up some runs."
The Scrappers posted three runs in the first inning. Those runs would be all Colon (1-2) needed to slam the door on Williamsport. The offense — and defense — took over from there.
"The faster we can get back into the dugout, the better chance we have of keeping that momentum," Wallace said.
That momentum was never relinquished.
Williamsport scored twice in the third inning, but could never sniff a comeback. Mahoning Valley added an insurance run in the fifth, and then hammered the Crosscutters with four in the eighth.
The Scrappers must have been feeling their powers, because several hustle plays turned into Crosscutter outs or big moments. Probably the most exciting was a two-run wild pitch in the eighth inning.
With John Barr on third base and Todd Hankins on second, Crosscutters reliever Jesus Pirela threw wide of the catcher's glove, and the ball ricocheted down the first-base line. Barr scored easily to put Mahoning Valley up 7-2, and a heady Hankins rounded third and slid in under the tag for the final run.
"You don't explain it; it's just exactly what you see," Wallace said. "It is, plain and simple, hustle. Those guys care enough to go hard on every play because you never know what is going to happen.
"That's exactly what we want to see out of these guys."
So Wallace is all about the super performance. But what about those superheroes?
"I've tried to get into comic books through the movies," he said with a smile, "but I just can't do it."