Dog injured twice by train in Salem finds a family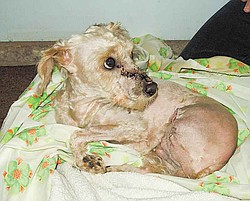 Photo
Train, a 2-year-old miniature white poodle, had her left rear leg amputated after being hit by a train in Salem. Alchemy Acres Animal Sanctuary came to the rescue and provided veterinary care for the dog, who has been adopted.
Alchemy Acres is a nonprofit 501c3 no-kill organization specializing in rehabilitation of animals with physical or psychological troubles. These animals are cared for until they can be placed in a permanent home. Alchemy partners with more than 12 humane
agencies.
Location: Temporarily located at Campf's Service Co., 1859 Depot Road, Salem.
Hours: 9 a.m. to 5 p.m. Tuesdays through Fridays and
9 a.m. to 2 p.m. Saturdays.
Contact information: Call 330-332-4897 or visit website at www.alchemyacres.org.
Funds and fundraiser: The sanctuary is funded solely by donations and fundraisers, receiving no government funding or trusts. A fundraiser, Gavin Ward Memorial Golf Outing, will take place July 23 at Olde Dutch Mill Golf Course. Call Alchemy for details.
By LINDA M. LINONIS
SALEM
She was pregnant, alone and scared, then hit by a train, not once but twice.
"Train," a miniature white poodle, lost her left rear leg and her unborn puppies, but her will to survive amazed her rescuers.
Sarah Sacco Olson, operations manager at Alchemy Acres Animal Sanctuary, said she's happy to report that although Train went through a physical ordeal, she has recovered and has been adopted.
Olson said the sanctuary received a call in early April that a dog had been hit by a train and was on the tracks.
"An ex-conductor who walks the tracks saw her," Olson said, adding that the wounded dog growled at the man. "He actually didn't recognize her as a dog at first."
The man called Salem police for help, who in turn, called Alchemy Acres.
Olson's sister, Emily, who also volunteers at the sanctuary, arrived and found that the dog had crawled toward the middle of the tracks, and another train had passed. "She got tossed and tumbled under the train," Olson said. Emily was able to get a blanket around Train and rescue her.
At Lisbon Veterinary Clinic, Drs. Gordon Schmucker and Susan Narby operated to reconstruct Train's face and deal with her left leg. "It had nearly been ripped off," Olson said. The leg was amputated; bruises on her body healed.
Olson said medical testing revealed Train was pregnant. But the trauma and medicines ended her pregnancy.
Overall, Olson said Train had a "remarkable recovery."
"I was really worried about her appearance ... her face. But she looks like a normal dog," she said.
Train went into foster care in late May and won the heart of her foster family, who adopted the 2-year-old dog. The foster family volunteers at the sanctuary. "They said Train was so filled with love ... they couldn't part with her," Olson said, adding that the dog is still called Train.
Alchemy Acres took responsibility for Train's medical bills, which were about $2,000. Donations are welcome toward Train's vet bills. The sanctuary operates solely on donations and proceeds from fundraisers.
Olson said her parents, Stephen and Julie Sacco, founded Alchemy Acres in October 2004. Another sister, Julie, also is involved at the sanctuary, which depends on volunteers.
Olson said the sanctuary houses about 100 dogs, 70 cats, a ferret, guinea pig and two sheep while about 100 dogs and cats and a few pot-bellied pigs are in foster care.