Lawyer-actress bridges gap to arts community
By GUY D'ASTOLFO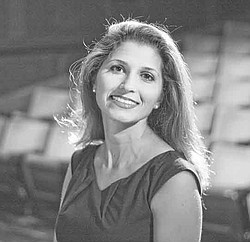 Photo
Denise Glinatsis Bayer became a lawyer in 2005, but she has been involved in theater ever since she was a teenager.
Now she is combining her experience in both fields for a new endeavor. Bayer has formed a law firm that will provide personalized service to Youngstown's arts and entertainment community.
She believes it's a first for the area.
I talked to her recently as she manned the phones at the Oakland Center for the Arts, where she volunteers. Bayer will take over as president of the board of the downtown theater in August.
The obvious first question was, "Does Youngstown need such a service?"
Bayer says yes.
Youngstown has a large arts community for a city its size, she pointed out.
And the city, which has been trying to transition its economy into one based on technology, could also benefit. Companies looking for a city to set up shop in usually insist that it has a thriving arts scene. Bayer's goal is to help Youngstown's artists and entertainers earn more money, so that they'll stay here.
In fact, she would like to see her practice evolve into a network of lawyers who provide services for the arts community at reduced rates — something many major cities have.
After graduating from Case Western Reserve University law school, Bayer completed a clerkship with U.S. District Judge Peter C. Economus. It taught her a lot about copyright and licensing law — which is exactly where the arts intersects with business.
She gave some examples.
Say a local artist has created a design that a company wants to put on a T-shirt. Bayer could advise the artist and draw up a contract that spells out the licensing agreement. It's a scenario that could also affect playwrights, musicians and others.
The process also works in reverse: A band that wants to record a song protected by copyright law would need help acquiring the rights.
Bayer has been acting on Valley stages since she was 14, so she knows the viewpoint — and fears — of the arts community.
Mistrust for the legal profession arises, she said, because artists don't understand legal terms and because lawyers can't see from the artist's perspective. Bayer intends to close that gap.
Easily one of the area's finest Shakespearean actors, Bayer's next theatrical role will be that of Rosalind in the Bard's "As You Like It," which will be performed at Morley Pavilion on July 29-30.
She appeared in "A Midsummer Night's Dream" in a 2009 Shakespeare in the Park presentation also at the Morley.
Most recently, she had leading roles in "Fat Pig" and "Death Defying Acts," both at The Oakland this past season.
She obtained a bachelor's degree from Youngstown State University, where she majored in theater. While at YSU she served as a dramaturg — a theater historian who helps make plays written in bygone centuries more accessible to modern audiences.
Sept. 11 anniversary concert at Trinity Methodist Church
To commemorate the 10th anniversary of the terror attacks of Sept. 11, 2001, Trinity United Methodist Church in downtown Youngstown will host a concert of music and reflection. The Trinity choir will be joined by guest singers for the event.
The featured work will be the Requiem Mass of Gabriel Faure. Adam Zagotti, music director at the church, will be the conductor. Singers interested in participating can contact Zagotti at organist@trinity-youngstown.org.