Gary Rhamy, adult music return to Valley airwaves
Gary Rhamy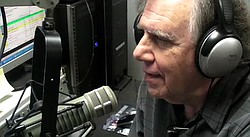 Video
Longtime local radio host Gary Rhamy is back on the air.
By GUY D'ASTOLFO
The Sinatra went silent late last year, when both of Youngstown's adult standards radio stations flipped formats.
First, Cumulus' WSOM-AM 600 switched to news-talk in December. Two weeks later, Clear Channel's WNIO-AM 1390 became the Sports Animal.
Although the song stylists and classic crooners were suddenly off the airwaves, the demand for them never went away.
To fill that void, WHTX-AM 1570 has changed its format to bring adult standards/contemporary music back to the Mahoning Valley. Under the guidance of operations manager Jim Davison, the former oldies station flipped in April.
With the handle "Fabulous 1570," the small station describes its playlist as "Youngstown's original hits." The station is licensed in Warren but has its studio in Mineral Ridge. Ray LaShure is program director.
WHTX has a slate of national DJs and syndicated programs, including "The Sounds of Sinatra," and also carries Mahoning Valley Scrappers games.
Davison wants the station to have a strong local voice. Toward that end, it is bringing back Gary Rhamy, longtime on-air personality on WSOM, who will occupy the morning slot (7-10 a.m.) starting Monday.
Adding Rhamy, said Davison, is "the icing on the cake."
Rhamy said his new show will feature the same music he played on WSOM.
"The standards that everybody knows, plus the best of the new stuff like Diana Krall and Norah Jones," he said. "And good local stuff, like Angelo Babbaro and Del Sinchak. It will be an eclectic mix."
Rhamy will give his show an extra local flavor with information about festivals, concerts in parks, listener birthdays and other events. "All those things that made our family unique on the other station," he said.
Musically, the songs span seven decades, from the World War II-era to the present.
Ever since WSOM flipped its format seven months ago, Rhamy said he has been getting asked every day when he'll be back on the air. "Now I have an answer for them," he said. Rhamy also owns Peppermint recording studio in Youngstown.
Reaction to the format change at WHTX has been very positive, said operations manager Davison.
"We had three more letters arrive last week from listeners who love the new format and the shows that are starting to take place on WHTX," he said. "And now with Gary [Rhamy] coming on board, he will be able to give school closings during the wintertime, as well as local high school scores, and he will be interviewing different singers during his morning show as well as giving away tickets, autographed items signed by different artists, and other prizes."
Davison, who leases the station from owner Chris Lash of Whiplash Radio, said he is trying to bring back radio the way it should be — live and local.
"I caught the radio bug in the early '70s, while listening to radio all the time on my transistor radio, especially to AM stations like WGAR, WLS, CKLW, WOWO and KDKA," said Davison.
"This is what I want to bring to the table again — entertaining radio. Whenever the listener turns that radio knob, they are hearing the radio that they remember. I grew up with small-town radio in the cornfields, and have loved small-town radio ever since."