62 face charges in East Side Youngstown drug sweep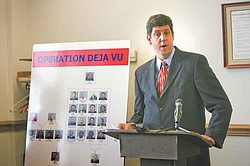 Photo
U.S. Attorney Steven M. Dettelbach stands near a poster of the 25 people wanted in a federal investigation into heroin sales in Youngstown. At a news conference Wednesday, he discussed federal and local law enforcement's determination to press forward with aggressive pursuit of those distributing drugs and illegally carrying guns in the area.
The list of people wanted on a variety of drug charges in relation to a 61-count federal indictment issued Wednesday. Some of those listed are already in custody:
Luis Angel Martinez, 33, Youngstown.
Duniek A. Christian, 26, Youngstown.
Roberto Agosto-Lopez, 27, Campbell.
Carlos Garay-Cruz, 36, Youngstown.
Richard N. Ramos, 34, Youngstown.
Eddie C. Laviena, 20, Campbell.
Roberto C. Colon, 28, Youngstown.
Rafael Medina-Vazquez, 31, Youngstown.
Daniel Infante, 23, Campbell.
Alexis Infante, 22, Campbell.
David Bracetty, 19, Campbell.
Edgardo Esteras-Diaz, 19, Campbell.
Carlos Alberto Cuevas-Garcia, 25, Youngstown.
Jose Emanuel Cuevas, 20, Youngstown.
Norman D. Rodriguez, 20, Youngstown.
Carlos Alberto Flores, 37, Youngstown.
Charles Lamont Bigsby, 36, Youngstown.
Rogelio Rojas-Pena, 23, Youngstown.
Jonathan J. Fernandez, 27, Youngstown.
Rolando Pena-Gomez, Manhattan, N.Y.
Jose L. Rojas, 47, Youngstown.
Adrian Colon-Torres, 20, Youngs-town.
Pedro L. Rivera, 31, Youngstown.
Blake Burns Mannor, 29, Youngstown.
Philip M. Lemon II, 23, Youngstown.
Source: U.S. Attorney's Office
Feds focus on 25 locals in 61-count indictment
YOUNGSTOWN
More than 60 people who for years earned money by selling heroin on the city's streets are either in police custody or on the run from federal, state and local law enforcement.
U.S. Attorney Steven M. Dettelbach said the roundup began early Wednesday after the release of a 61-count federal indictment charging 25 people from the Youngstown area with a variety of drug-related crimes.
There are an additional 37 people indicted on state charges to be prosecuted by the Mahoning County Prosecutor's office.
"This case shows that although people who deal drugs and have these firearms do not give up easy, neither do we," said Dettelbach. "We are talking about a group of people who bought drugs into Youngstown and sold them around the area, often carrying guns as a tool of trade like some people carry a hammer."
The drug sales centered on the city's East Side. The indictment details drug sales in the areas of Ayers and Shehy streets, McCartney Road, Mumford Circle and Byron Street in Youngstown, as well as Morley Avenue in Campbell.
Bob Balzano, resident agent with the U.S. Drug Enforcement Agency, said as of late Wednesday that law-enforcement officials had arrested 32 — 16 on state charges and 16 on federal charges — of the total 62 people wanted in the drug investigation.
He said more than 90 law-enforcement officers continue to pound the pavement in search of the remaining 30 people.
Rebecca Doherty, an assistant county prosecutor, said all those facing state charges in the investigation have been presented to the grand jury under a secret indictment. She said charges against the 37 people, whose names have not yet been released, range from possession of drugs to trafficking in heroin.
According to the federal indictment, Luis Angel Martinez, 33, of Youngstown would obtain heroin from sources in Youngstown, New York City and Buffalo, N.Y., for distribution in Youngstown. The indictment says Martinez would then distribute the drugs to lower-level dealers for distribution throughout the area.
The indictment says the lower-level dealers also would take turns staffing a cellular telephone used by Martinez for drug distribution.
Balzano said wiretaps on phones used by the dealers played a major role in the investigation. The indictment details phone conversations where those in the indictment spoke about various drug transactions.
Dettelbach said the investigation was labeled "Operation Deja Vu" because Martinez faced similar charges after an investigation in 2004. He said Martinez served 18 months in prison and was placed on probation, but ultimately went back to the drug trade.
Martinez is not the only person mentioned in the indictment who is known to law enforcement.
Duniek Christian, 26, of Youngstown has been in Mahoning County jail on a variety of charges since late 2010, but is listed as a primary player in the federal indictment.
Christian was arrested in early November after leading police on a chase through the East Side while driving a stolen car. He had been wanted on warrants over a 2005 gunbattle with police that led to the felonious-assault charges pending against him in Mahoning County Common Pleas Court.
Christian, in 2005, was accused of driving a stolen car with three other men in it through the East Side while they shot at seven police officers.
Christian's behavior in a Youngstown Municipal Courtroom earlier this year also almost led to his mouth being duct-taped shut.
Past charges against others mentioned in the federal indictment include traffic offenses, drug abuse, possession of drugs, criminal simulation, possession of drug paraphernalia and assault.
One of the men named in the indictment is deceased. Officials would not comment on the nature or circumstances of his death.
The federal indictment and subsequent arrest come on the heals of another federal investigation into the LSP Gang that operated for years on the city's South Side and the April indictment of 28 people believed to be part of a major drug ring in the Youngstown area. Dettelbach said authorities do not believe the three cases are related.