North Lima's David Wenger to race in the Tour of the Valley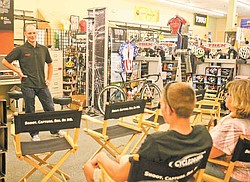 The Vindicator

Photo
North Lima native and pro cyclist David Wenger speaks with Salem resident and beginner cyclist Chase Howard, 16, at Cycle Sales in Boardman. Wenger, who won the USA Cycling's 2011 Elite National Championship Criterium event in Augusta, Ga., will race in this weekend's Tour of the Valley. Howard, who has been racing for about a year, said getting to meet Wenger keeps him inspired.
North Lima's David Wenger to race in the Tour of the Valley
By Jm Flick
BOARDMAN
A national bike racing champion is coming home to compete in this weekend's Tour of the Valley.
The Tour of the Valley "is the best bike race I could find in the country this weekend," said David Wenger, 31, a North Lima native who now calls Austin, Texas, home. The fact that competing in Tour of the Valley means that Wenger will be competing in his hometown for the first time in 16 years on the national bike racing circuit is just a bonus.
In June, Wenger won the national championship in criterium racing in Augusta, Ga. Criterium bike racing is run on a short course, usually less than five kilometers, often on closed-off city center streets, and includes at least six turns.
The criterium title is "a big one, like a lifetime achievement award," Wenger said.
The championship was just the latest in a string of titles he's won since he started bike racing when he was 15.
Bike racing wasn't his first sport. Wenger was an all-star Little League baseball player in North Lima until he was hit in the face by a pitch. That curbed his enthusiasm for baseball, and he quit a year later.
Wenger added that he was "a mediocre runner in high school," running both and cross country.
But then he found bike racing.
In his first few races, he finished high, in third to fifth place, and knew he'd do better. "Right off the bat, I experienced success.
"I knew I'd found my sport within a month of starting it," Wenger said.
When he was 15, he biked in races in western Pennsylvania, Cleveland and Columbus, racing as a member of Mahoning Valley Cycling. As his skills developed, he went on to races in Indiana, Illinois and Wisconsin.
"As a young rider, it's hard because you're always advancing and finding out what doesn't work," he said.
When he was 17, Wenger won his first title when he won a time trial race in Illinois.
Wenger attended Miami University in Ohio, where he won another biking title — the 2001 Collegiate National Championship. He graduated in 2002.
Also in 2002, Wenger won another championship, the 2002 Under-23 National Time Trial Championship, for a 3,000-meter race.
After graduating from Miami, Wenger was a professional bike racer for two years before settling into Austin. Today, he works for Durata Training in Austin, where he coaches bikers in what he calls biomechanical training, which stresses efficiency in bicycling.
"In cycling, you don't have to be strong, and you're never too old," he said. "Not everyone needs to be a potential bike racer. They just need to be someone interested in being a better bike rider."
He still finds time for racing, riding in 70 to 75 races each year.
Wenger said he often finds athletes from contact sports such as football and hockey who are recovering from injuries try cycling as they are recovering. Once they're recovered, athletes often stick with cycling, and start bike racing, he added.
Wenger said he's glad to be back in town for the Tour of the Valley.
"These are the same roads I traveled on as a kid," he said.
Tour of the Valley races are scheduled in Berlin Center on Friday, in Columbiana on Saturday, and in downtown Youngstown on Sunday.