Pennsylvania rallies past Ohio in OT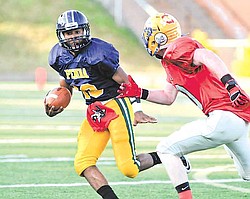 Photo
Southern cornerback Trey Griffi th tries to get the angle on Pennsylvania quarterback Jasson Adamson during Thursday's Stateline Classic.
By Greg Gulas
BEAVER FALLS
Lukas Turley's 1-yard run in overtime helped Pennsylvania stop Ohio, 17-10 in the 32nd annual Penn-Ohio All-Star game Thursday at Reeves Field on the campus of Geneva College.
The win was the fourth in the last seven games for the Keystone State as it improved to 23-9 in the 32 games.
"It took a defensive play in the end, but overall it was a hard-fought game with both sides taking advantage of the other team's errors," said Pennsylvania's Aaron McKinney. "Also, it seemed as though the team with the ball last was the team with the advantage."
McKinney, who had 35 yards rushing on nine carries, also hauled in four passes for 84 yards en route to team most valuable player honors.
Ohio took the opening kickoff and chewed nearly six minutes off the clock as Poland's John Medina, who will be attending Geneva College this fall, capped a 12-play, 80-yard drive with a 4-yard march into the end zone for the first score of the game.
When South Range's Ethan Witmer added the placement, Ohio had the early 7-0 lead.
Pennsylvania didn't take long to answer as it pieced together an 18-play drive of its own to knot the score at 7-all.
It slowly and methodically ate up over six minutes of clock as Turley, who played scholastically at Central Valley, hit paydirt from 5 yards away for the first of his two scores.
Midway through the second quarter, Pennsylvania's Darious Walker fumbled on the Ohio 24-yard line with Indian Creek's Niko Otto recovering for the Ohio All-Stars.
Crestview's Carter Hill then guided Ohio to the Pennsylvania 12-yard line where Witmer connected on a 30-yard field goal to give Ohio a 10-7 halftime advantage.
After a scoreless third frame, Beaver's Nathan Mick booted a 33-yard field goal just over three minutes into the final quarter to knot the game at 10-all and force overtime.
Trailing 17-10 and faced with a fourth and goal from the Pennsylvania 3-yard line in overtime, Ohio quarterback Carter Hill was sacked by Moon Township's Kyle Henderson to end the game and secure the victory for the hosts.
"I was blindsided as we were just looking for a quick playmaker," Hill said. "The difference in the game was turnovers.
"You can't win the game when you turn the ball over like we did tonight."
Hill completed 8 of 10 passes for 129 yards and rushed for 29 yards on 10 carries to earn Ohio MVP honors.
""Carter [Hill] just makes plays and gives you his all on every play," said Ohio coach Mark Asher. "This was a fun all-star game for everyone. We played hard and that is all that you can ask of your team.
"What a bunch of classy kids we had. There's a reason they were here and a reason they are going to be successful in life as well."