WWII veteran from Youngstown to be inducted into hall for valor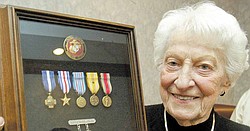 The Vindicator (Youngstown)

Photo
Suzanne Johnson McLaughlin holds a display of her late husband Charles Johnson's war medal. He was posthumously awarded the Navy Cross.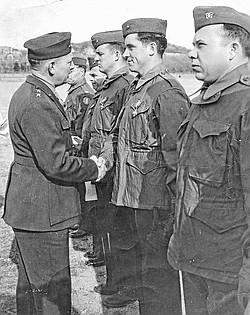 Photo
Johnson received his Silver Star on April 16, 1945, while serving as a runner of a Marine rifl e company on Okinawa Shima, Ryukyu islands.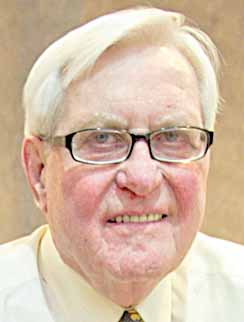 Photo
WWII veteran from Youngstown to be inducted into hall for valor
YOUNGSTOWN
Charles E. Johnson, a Youngstown native and Marine Corps veteran of World War II, will be posthumously inducted into the Ohio Military Hall of Fame for Valor.
Johnson received the Navy Cross and the Silver Star, among this country's highest military honors, for his courage under fire in separate engagements with Japanese forces on Okinawa in 1945.
The induction ceremony is May 6 in Columbus.
His wife, Suzanne Johnson McLaughlin, 87, described her husband, with whom she had been friends all through high school, as fun-loving both before and after the war. "He was always the actor," she said.
Suzanne said he didn't talk much about the war, but one story he did share was about a time on Okinawa when he jumped into a foxhole because Japanese soldiers were all around. He felt someone jump in the foxhole with him, and when he turned to look, he found himself face-to-face with a Japanese soldier.
"The Japanese soldier got up and ran, and Chuck stood up to shoot him. But his rifle was out of ammunition. It was quiet, and all his buddies heard was a click when he pulled the trigger. So they gave him the nickname 'Click Johnson,'" she said.
Johnson's heroic actions are described in the citations for his medals.
Johnson received his Silver Star on April 16, 1945, while serving as a runner of a Marine rifle company on Okinawa Shima, Ryukyu islands.
"When his platoon leader was killed, after an assault on an enemy-held ridge, Johnson voluntarily took immediate command, reorganized the platoon on the ridge, and in spite of devastating enemy mortar and machine-gun fire, placed his men quickly and skillfully, often exposing himself without regard for his personal safety. His platoon repulsed a determined enemy counterattack killing 25 enemy soldiers," the Silver Star citation says.
About two months later, on June 6, 1945, Johnson again took charge after his platoon leader and a number of his comrades had been wounded or killed during an attack on a Japanese position.
According to his Navy Cross citation, Johnson, while serving as a squad leader of Co. G, 3rd Battalion, 29th Marines, 6th Maine Division, "reorganized the platoon which was being held up by heavy hostile machine-gun fire. Then, aggressively leading the final assault on the objective, he personally charged two enemy machine guns with a rocket launcher and, firing at point-blank range, destroyed both of the guns and their crews. After his platoon had occupied the hill, Johnson courageously exposed himself to hostile fire to assist in sealing three cave positions from which the Japanese had been holding up the advance of adjacent Marine units."
During his military career — from May 5, 1943, when he enlisted, to Feb. 10, 1946, when he was discharged as a corporal — Johnson also was awarded the Purple Heart for shrapnel wounds suffered on Okinawa, the Bronze Star with several oakleaf clusters, the Combat Action Ribbon, the Navy Presidential Unit Citation, and the American and Asian Pacific Campaign medals, said Suzanne's brother, Atty. Richard P. McLaughlin, who nominated Johnson for induction into the hall of fame. McLaughlin served in the Army from 1953 to 1955.
Another incident recalled by Suzanne revealed that her husband returned from the war with more than bleeding stomach ulcers.
One Fourth of July at a relative's home in Liberty, fireworks were shot off.
"Chuck disappeared, and we found him hiding under a bed. He was scared to come out," she said.
Johnson, born and raised on North Hazelwood Avenue, was on the football team at Ursuline High School, loved golf and was sports fan. He was one of the founders of the Ursuline Boosters Club and of the Mahoning Valley Gaelic Society.
He particularly loved Ursuline and Notre Dame football and the Cleveland Indians, McLaughlin said.
"Once during a Notre Dame football game, he got so upset with the coach he got up and tried to call him during the game," said a laughing Suzanne, who grew up on Kensington Avenue.
Johnson worked for Thornton Dry Cleaning as a driver-salesman, at Portage Tool Co. of Akron, and was associated with Akron Technical Institute. He died of a complications from a stomach ailment in 1958 at age 33.
Suzanne, left to raise four children, ages 1, 4, 7 and 10, went to work as a secretary in the Mahoning County commissioners' office. The children are Charles E. Jr. of Alta Loma, Calif., Jeanne Curtis of Youngstown and Rita White of Campbell. Another daughter, Joyce Ann Vesy, is deceased.
Suzanne said her husband was always afraid of dying young because his mother died at 32 and his sister, Rita June Johnson, at 20.
Johnson's half-sister, Monetta LaLama, lives in Girard.
"He came home from the war with bleeding ulcers," Suzanne said. "Sometimes they were so bad he couldn't walk, but he never missed work. The day he got sick, he came home at noon and collapsed at my feet. He was dead two weeks later."
Suzanne plans to attend the induction ceremony with numerous family members.
"I'm so very proud and glad we could do this for Chuck," she said.