At GM Lordstown, Kasich pledges to drive jobs into state
Gov. John Kasich at GM Lordstown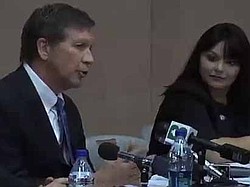 Video
Ohio Gov. John Kasich speaks at GM's Lordstown plant on Tuesday, Jan. 25, 2011.
By DAVID SKOLNICK
skolnick@vindy.com
LORDSTOWN
During his first visit to the Mahoning Valley as governor, John Kasich said he would work to erase the state's "image problem" with business officials.
The governor also took shots at his predecessor, said General Motors "expressed concerns" about doing business in Ohio, and attempted an Arnold Schwarzenegger "Terminator" impersonation.
"We've got like a million things going on," Kasich said Tuesday at the Lordstown GM complex. "You know what is amazing? I've been in for a total of two weeks. Seems like it's been [a lot longer]. I've got everybody, everybody's wondering what's he going to do next, so that's not all bad."
Despite the success of the Chevrolet Cruze built in Lordstown,
Kasich said GM executives "expressed concern" to him about doing business in Ohio during a meeting in Detroit earlier this month.
GM spent about $350 million at the Lordstown plant to produce the Cruze. GM officials say they are depending on the fuel-efficient vehicle to rebuild the company's standing in the compact-car market.
"I'm thrilled they made an investment here," Kasich said.
But Kasich pointed to GM plant closings in recent years in the Cleveland, Dayton and Mansfield areas as evidence that the company has issues with doing business in Ohio.
"When one part of Ohio bleeds, we all bleed," Kasich said.
GM has also closed plants in Michigan, Tennessee, Delaware, Virginia and New York.
He added that auto executives said the state isn't competitive and under ex-Gov. Ted Strickland, a Democrat who lost a re-election bid to Kasich, Ohio wasn't "responsive" to their needs.
They complained the previous administration was "difficult to work with," Kasich said.
Senate Minority Leader Capri Cafaro of Liberty, D-32nd, who joined Kasich at the GM facility, said it was a joint effort among the company, its United Auto Workers union as well as federal, state and local officials who helped get the Cruze built here.
"GM in Lordstown is working, and that's directly related to the previous administration," Cafaro said.
The brief tour of the Lordstown plant was Kasich's first to Northeast Ohio since his Jan. 10 inauguration.
Attempting a Schwarzenegger "Terminator" impersonation, Kasich said, "I'll be back."
"I'm not going to be absent" in the Mahoning Valley, he said.
Kasich said he's "not a foreigner here in the Valley. You could almost throw a rock and hit my house from here where I grew up over in McKees Rocks," Pa., about 75 miles from Lordstown.
Kasich also complimented V&M Star in Youngstown for its $650 million expansion project.
State Sen. Joe Schiavoni of Canfield, D-33rd, who was with Kasich on the GM tour, said he urged the governor to come to the Valley.
"I told him people in the Mahoning Valley are afraid of him" because they were comfortable with Strickland, a frequent visitor to this area, Schiavoni said. "They're concerned about what [Kasich is] going to do."
As governor, Kasich said he is focusing on making Ohio more business-friendly. He said he not only wants to keep companies that are here but is looking to attract businesses.
Kasich mentioned the Utica Shale as "potentially good news" for business in Ohio, but warned that discussion on its use is very early.
The Utica Shale, a rock layer below the Marcellus Shale, could be a major source of natural gas.
V&M officials have said Youngstown's proximity to the Marcellus Shale was a main reason the company is expanding here.
David Betras, the Mahoning County Democratic Party chairman, wrote in a statement that Kasich's visit "amounts to nothing more than a slap in the face" to every union worker at the GM plant.
"While he was running for governor, John Kasich couldn't go two sentences without blaming all the troubles in Ohio on organized labor," Betras said.