Girard mayor will run for fourth term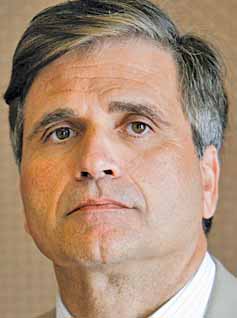 Photo
By LINDA M. LINONIS
GIRARD
"Get tough, get smart ,or get out" is how Mayor James Melfi described the challenges of being mayor. It's those challenges he finds exciting and so much so he announced his candidacy Monday to run again for mayor.
Melfi, 53, said he filed his petitions with the Trumbull County Board of Elections. Candidates must declare their intention by Feb. 2; so far, no one else has announced a challenge to the three-term mayor who is in his 12th year. The primary is May 3, and general election, Nov. 8.
Melfi said he has as much "zest and ambition" for the position now as he had a dozen years ago even though the city has faced financial woes. Melfi said being monetarily challenged has sharpened his skills.
"The issues that matter most to our citizens have mattered most to me," he said. And just as city residents have faced a tough economy, the mayor has faced it in the city.
He noted that on Dec. 31, 2002, the general fund was at a negative $2.5 million. On Dec. 31, 2010, the general fund was $50,000 in the black despite a terrible economy and the loss of the city's largest employer, Indalex, that took away 300 jobs and 10 percent of the total income tax for the city.
Melfi said the change in financial status was made possible, in part, by reducing employee costs and implementing random drug testing and safety classes, which lowered the city's cost of workers' compensation from $389,458 in 2006 to $171,460 in 2011.
Melfi cited his work in obtaining grants that have benefited the city. He acquired $900,000 in Neighborhood Stabilization Grants and $3 million in Community Housing Improvement Program. Funds went to home improvements, water- and sewer-line upgrades, paving, new sidewalks and demolition of 74 structures, to date, including North Avenue, Washington and St. Rose schools.
He also worked to get a $7 million Housing and Urban Development grant to build a new senior housing complex in the city.
Melfi said he and the law director worked to protect the city's interest in the V&M Star expansion. The city will get $3 million from construction of the plant through income taxes of construction workers and received a $400,000 check from Youngstown for its sewer fund.
Melfi is a graduate of Girard High School and earned a bachelor's degree in economics at Youngstown State University. He also served as city treasurer for 11 years.
Melfi and his wife, Nina, have three children.