Published: Tue, January 25, 2011 @ 12:01 a.m.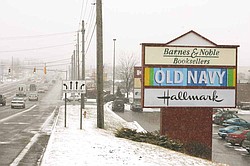 The Vindicator (Youngstown)

Photo
This eastbound stretch of U.S. Route 224 with the Shops at Boardman Park has replaced the Southern Park Mall as the center of Boardman retail, said one local real estate agent.
aluthern@vindy.com
BOARDMAN
The township's motto is, "A Nice Place to Call Home."
To many, it simply is, "A Nice Place to Shop."
"Route 224 is a great shopping mecca," said Melissa Hotem, Old Navy's Ohio East district manager.
Old Navy occupies a corner in the popular Shops at Boardman Park.
"When you come down 224, you really see the store with its striping and its lights. It's like a beacon," Hotem said.
A Vindicator survey of business along U.S. Route 224, from Interstate 680 to state Route 11, revealed that of 426 storefronts, 73 were vacant — about 17 percent.
Still, the bulk of new business has been concentrated on Route 224, said township Administrator Jason Loree.
"What you do see is people wanting to be on the 224 strip as much as possible," he said.
Changing Landscape
Since retail expanded into Boardman in the 1950s, Route 224 has become a focal point.
"Retailers have a herd mentality and stick around each other. You want to be near the guy advertising," said Bill Kutlick, president of Kutlick Realty LLC.
He called Boardman a "mainstay, core retail area" which has strong demographics. About 50,000 cars drive past businesses on Route 224, he said.
A vacancy rate for a large area, such as Route 224 and Market Street, might not be the best measure, because vacancy rates vary drastically depending on the size — specifically square footage — of the plaza, Kutlick said.
"Real estate isn't a cut and dry definitive. Business is all about location and how you manage it," he said.
Kutlick, whose company had 17 empty locations on Route 224 in The Vindicator survey, said many businesses from I-680 to the Southern Park Mall are in transition.
"Tenants are closing and relocating to better positions," he said. "... That creates a vacancy that it may take time to absorb."
Kutlick explained that because Route 224 attracts national companies, it takes time to make a deal. He pointed to the eight months his company spent working with electronics and appliance store hhgregg, which will take the place of Sofas Plus near the Shops at Boardman Park.
"You need patience and time. It's a time issue. It's making the deal," he said.
Kutlick said the recession played a role in retail vacancies.
"Many local places closed because the whole program closed, like Circuit City. The economy didn't help," he said.
Other examples of Boardman businesses hit by the recession on Route 224 are Krispy Kreme, Linens 'N Things, Boston Market and Value City department store. The department store is not connected to Value City Furniture, which is under different ownership.
Loree said the township has seen other changes in trends along Route 224.
"We've had a swing in terms of the medical, health and fitness business sectors," he said, noting that Planet Fitness, Ntense Workout and Hometown Urgent Care are all recent additions.
James Grantz is a broker associate at Edward J. Lewis Inc., the agency which worked to bring Hometown Urgent Care and equipment store Health and Fitness to 224. During the survey, The Vindicator counted 10 vacancies on Route 224 represented by Lewis real estate.
Health and Fitness occupies half of the former Brides by Demetrios store in Presidential Square plaza. Grantz said the vacancy factor for a small specialty plaza such as Presidential Square is "generally around 8 percent."
The Vindicator's survey noted that it was closer to 10 percent, but a new restaurant, Bombay Star Indian Cuisine, is set to open soon.
"The majority of the things that I've done [in 2010] were service-oriented," Grantz said, grouping financial advisors Edward Jones and Liberty Tax Service with health-related businesses.
In The Vindicator survey, Boardman Plaza had a higher vacancy rate, about 28 percent, than that of Route 224 total. Forty-three vacant storefronts were counted, and of that number, 12 were vacant.
Connecticut-based company Charter Realty and Development Corp. represents the plaza.
"We generally do not provide comments as a rule," wrote Dan Zelson of Charter Realty in an e-mail.
Representatives of WP Realty, which manages the plaza, did not return call from The Vindicator seeking comment.
Looking Forward
Retail business will continue to flourish in Boardman, Grantz said.
"There's been a dramatic amount of growth, but the biggest and most noticeable change is that the center of Boardman used to be the mall, and now it's the Shops at Boardman Park," he said.
He predicts that more retail stores will have a look similar to the Shops at Boardman Park.
"I think we're going to see over the next five years is more older buildings rehabbed to look more modern," Grantz said, adding "I'm not thinking anything negative is going to happen at all."
Just last week it was announced three new stores are set to open this spring in The Shops at Boardman Park: Ulta Beauty, America's Best Contacts and Sunglasses and Scottrade.
Marketing director Celeste Lisko said the three new tenants will bring the number of retailers to 34.
Kutlick said some of his properties are already undergoing that process, and that the vacant Value City department store building will soon be remodeled to look "something more like what Target is in now."
He also said that filling vacancies depends on functional aspects of the building such as age, condition or depth.

Kutlick is optimistic about 2011, saying he had more deals underway during the first week of January than he did at that time in 2010. Those deals include locations on South Avenue and Western Reserve Road, two areas that Kutlick contends will only continue to build up in retail.
"The key is we're in a positive mode. This year will be better than last," he said.
— Grace Wyler contributed to this report.