Published: Mon, January 24, 2011 @ 12:01 a.m.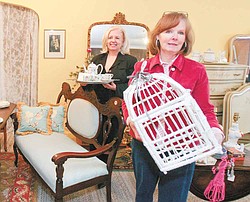 The Vindicator (Youngstown)

Photo
Maria Van Tilburg and Jan Christopher, owners of The Joshua Tree on Market Street in Boardman Township.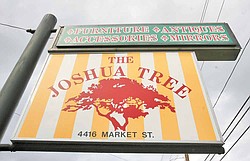 The Vindicator (Youngstown)

Photo
The Joshua Tree antiques store at 4416 Market St. in Boardman Township.
aluthern@vindy.com
BOARDMAN
Driving north on Market Street, it's a hard to miss the cheery yellow-and-white-striped sign and awning for The Joshua Tree – or the portrait of "Aunt Helen" peering out from the window.
"It's got curb appeal," said Jan Christopher, who co-manages the antique store, 4416 Market St., with Maria Van Tilburg.
The store is one of 269 occupied storefronts counted by The Vindicator during a survey of Market Street from Midlothian Boulevard to Western Reserve Road.
Sixty-nine storefronts were vacant, equaling 20 percent or one in every five stores on the north-south state route through Boardman Township, compared to 17 percent storefront vacancy on U.S. Route 224, according to Vindicator research.
The biggest difference between the two retail corridors is that Market Street caters to small, local businesses, said John Burgan, who co-founded Burgan Real Estate, which has been on Market Street for more than 30 years.
"Market Street is local: all local people and local businesses. We look out for each other. (U.S. Route) 224 is a lot of franchising," Burgan said.
Burgan said the number of occupied businesses has remained roughly the same during his long tenure one the state route, and many of those businesses have been around for decades.
That is one reason businesses on Market Street weathered the recession relatively well, he said.
Many Market Street business owners own their buildings, which decreases overheard costs and allows them to survive when revenue slows, Burgan said.
Many businesses closed simply because "the owner retired and there was no one to take over," he said.
Township Zoning Inspector Anna Mamone said businesses close for a variety of reasons.
"It all depends on the nature of the business and what need is out there for the public. For a restaurant, does it serve good food? How is the service?" she said. "You never know for sure what makes a business fail."
The failure rate of new businesses is very high nationally, and young entrepreneurs seem to lack "stick-to-it-tiveness," Burgan said.
"People go into business because they want to work for themselves and then they realize it's not best of plans," he said. "They're not suited to be self-employed because they can't live like a pauper."
Staying open
When Tilburg and Christopher took over The Joshua Tree last year, they made immediate changes: prices were lowered, inventory turnaround was increased and the pair began marketing items online.
"We do find the demographic getting younger and younger. We're putting things on Craigslist. We get smart young couples that come in and say 'I'd rather have something unique' or they're on a budget," said Christopher, who is the former proprietor of Jan's Finds and Designs in Girard.
The two never considered moving the Market Street business, which was founded by Bob Joshua about eight years ago. The building and business were purchased by the Hippenstiel family, who own State Street Furniture in Oil City, Pa.
"The Joshua Tree was a known name," Tilburg said, adding that being on Market Street makes the store more visible.
She said that the store has never had a problem with crime, despite the preconceptions some people might have with the area.
"We have a few checks and charges. It's not a big cash business … and [furniture] is not something they can easily steal," Tilburg said.
Christopher said that store workers everywhere need to be aware of their surroundings.
"Especially as a woman being in business, you've got have a good feeling about someone. If I don't, I'll leave out the back door," she said.
Moving to Market
Glen Cimaglia of Northeast Audio said he and his business partner, Jeff Perry, knew they wanted to keep their store on Market Street.
The rent is significantly less than on Route 224, and Market Street is a good location, said Cimaglia.
"It's a state route, everybody knows Market Street and there's easy access from Midlothian and Shields," he said.
When Northeast Autosport opened in 2004, the Fast and Furious movie franchise was popular and in 2009 Indie Wax Records opened as a side project, Cimaglia said.
"Our primary focus now is vinyl signs and graphics. Now people don't have expendable income for [car features]. It seems like the business climate changes so fast," he said. The new venture is called Northeast Grafiks.
The store's new location at 6961 Market St. is in the Gorant Plaza, which no longer houses its namesake store.
"The longer buildings sit empty, the more likely they are to be vandalized," he said. "... It hurts the surrounding businesses. It helps when there's an anchor store ... that you can draw off their advertising and reputation."
Market Street has eyesores, Burgan said, "but that's an exception."
"You're almost always going to have a vacancy in a plaza. When you have a projection for a plaza, you always project a certain number of vacancies," he said, adding that the number varies.
In Fashion Square, on the corner of Market Street and Route 224, five of the seven storefronts were vacant during The Vindicator survey. The only open businesses are Family Christian Bookstore, which has about 250 locations nationwide, and Asuka Japanese Cuisine.
"We moved about five years ago from another place further up Market Street to this plaza," said A.J. Sonnier, the bookstore's manager.
Sonnier said the store is doing 20 percent more business than last year, which he credits to increased coupon distribution and an upswing in the economy.
"Being a specialty store does help," he said. "We're small enough that we still have a hometown feel, even though we're a national chain."
The Future
"Like anywhere else it takes capital to promote and maintain a business and a lot of determination if you're serous about sticking around," Cimaglia said.
In five years, Burgan said he expects to see the same businesses on Market Street stay there, especially those that have been around for more than 20 years. The only exception is if those business owners retire.
Burgan said if he were going into business he would try to become an apprentice to an established business owner.
"I'd go from one end of Market Street and just knock on doors and say, 'I'd like to work for you and take over your business [when you retire]. Would you work side by side with me?'" he said.
Local businesses support the local economy better because money made is generally spent in the area, Burgan said.
"I think there is a place for a small entrepreneur and there always will be," he said.
— Grace Wyler contributed to this report.