Lyell set for enemy territory
Middleweight Boxer Billy Lyell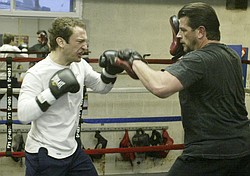 Gallery
Middleweight Boxer Billy Lyell trains for a Jan. 29, 2011 fight with Julio Cesar Chavez Jr.
The Niles boxer is about to cap a whirlwind month in Mexico.
By Joe Scalzo
YOUNGSTOWN
Over the past month, Billy Lyell has gone from working the night shift at GM Lordstown to getting laid off just before Christmas to getting picked to fight the son of his favorite fighter to flying to Mexico City for a pre-fight press conference with Julio Cesar Chavez Jr.
"I'll tell you, only in boxing," said Lyell, a Niles native who will fight Chavez in a 10-round middleweight bout Saturday night in Sinaloa. "It's incredible, but you never know when you're going to get an opportunity."
The bout pits the overachieving underdog against the undefeated son of boxing royalty.
Lyell knows he's walking into enemy territory — his trainer, Keith Burnside, expects about 16,000 fans to fill a soccer stadium for the fight, with 100 percent of them cheering for Chavez — but he feels confident he can handle it.
After all, he was in the same situation this time last year against Sebastian Sylvester, falling in the 10th round in Sylvester's home country of Germany.
Lyell had a week to prepare for that fight. He has had five weeks for this one.
He said he's ready.
"I'm 100 percent — no excuses," he said. "Having the ability to watch tape and know who you're fighting five or six weeks in advance makes a world of difference."
Lyell (22-8, 4 KOs) hasn't fought since winning a unanimous decision over Martinus Clay on May 7 in Morgantown, W.Va.
In the meantime, he kept in shape while finding work at Lordstown for a few months when General Motors launched the Chevrolet Cruze. He worked the night shift, lifting tires onto cars, then did a mixture of running and lifting in the mornings.
"And then he'd make it into the gym maybe twice a week," Burnside said. "All the sudden he gets the call for this fight and he was already in shape."
Lyell has spent the last month doing double workouts at Burnside's downtown gym. He spends his mornings lifting and running and his evenings working on boxing.
He's also been sparring in Cleveland, working with bigger and heavier partners to prepare for the 5-foot-11 Chavez.
"He said he feels the best he's ever felt," Burnside said.
Lyell and Burnside flew to Mexico City for a pre-fight press conference about a week and a half ago. Other than a brief statement by Lyell and a couple posed photos, the two basically sat at a table while the Mexican media asked Chavez (41-0-1, 30 KOs) about his future plans.
"Nobody asked us any questions," Burnside said. "All the sudden they started asking Chavez about the fight right after this and we're like, 'Hey, that's great for us.'"
Was Lyell surprised?
"I don't know what's going through their mind," he said. "I know come the 29th, they're going to have a fight on their hands."
The 28-year-old Lyell has never been afraid to fight favored fighters. His eight losses have come against some of boxing's best, including Sylvester (the IBF middleweight champion), Vanes Martirosyan (who is 28-0 and holds the NABF light middleweight title) and James Kirkland (who is 25-0).
He earned his biggest victory almost two years ago, stunning the previously-undefeated John Duddy by 10-round split decision. Chavez is the only other fighter to beat Duddy, earning a 12-round unanimous decision over the Irishman on June. 26.
"I've had my share of big fights and you never know if you'll get another one," Lyell said. "This could be my last shot at the big time, so we've got to make sure we go in there and take advantage of it."
More like this from vindy.com