Niles board votes to keep Yeager as football coach
Girard Vs. Niles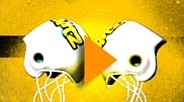 Video
Team

| Record | Div. | Conf. |
| --- | --- | --- |
| 2/8 | Div. III | All-American Conference Red Tier |
By Jordan Cohen
NILES
The city board of education voted Thursday to retain Brad Yeager as Niles McKinley High School varsity football coach.
The vote was 3-2 on the one-year contract, with board members Eric Lanham and Tony Perrone voting against the new contract. Board President Marlene Rhodes and members Traci Buttar and Richard Limongi voted in favor. There was no discussion about the coach's contract prior to the vote.
Nearly 50 people attended the meeting, a much-higher-than-usual turnout. Among them were 11 sophomore and junior football players who carried handwritten "Keep Yeager" signs, some attached to placards displaying the McKinley helmet.
"He deserves this job because he's more than our coach," said one of the players, Pat Barrett, a junior. "He's like our counselor." Team members applauded at the conclusion of the meeting.
Yeager's tenure as football coach has been marked by controversy since he was initially hired in 2008 over several candidates with more experience. Niles McKinley has had three consecutive losing seasons during the 28-year-old coach's tenure.
Last fall, Superintendent Rocco Adduci had indicated Yeager would not be offered a new contract but later changed his mind after meeting with the players. A vote expected last month was delayed by the board pending discussion by the school's athletic council.
"I'm excited now that this is over and we can get going and begin what we have to do," said Yeager after the meeting.
Lanham told the coach and players that despite his vote, he supports the coach "100 percent, but I hope that the concerns I have are unfounded." Lanham would not say what those concerns were when asked after the meeting.
Perrone denied that his vote showed a lack of confidence in Yeager. "Absolutely not," he said. "This is all about our evaluation process how we hire coaches, and that needs to be changed.
"We didn't need all this drama."
In one other item, the board voted to sell vacant land at Carnegie Avenue and Cedar Street for more than $112,000. Adduci said that local Realtor Jason Altobelli and several others have purchased the property. The superintendent said he did not know what the buyers intend to do with the land. An attempt to contact Altobelli was unsuccessful.
Adduci said the school district had tried to sell the land at public auction twice without any success.