Last-minute heroics help Boardman turn back Fitch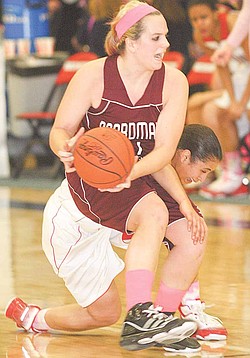 Photo
Boardman's Brooke Meenachan (22) gets tangled up with Mariah Snowden of Fitch during a game Thursday at Fitch High School in Austintown. The Spartans defeated the Falcons, 57-54.
BOARDMAN 57
FITCH 54
Next: Boardman at East, Monday, 7:30 p.m.
Next: Fitch at Harding, Wednesday, 7:30 p.m.
By Jim Flick
AUSTINTOWN
In a battle of traditional rivals that wasn't decided until the final seconds, the Boardman High girls basketball team defeated Austintown Fitch 57-54 Thursday night.
Fitch led with less than a minute remaining. But with only 37 seconds on the clock, Brooke Meenachan scored a layup and added a foul shot to give Boardman (4-7, 2-4 in Federal League play) a 53-51 lead.
After Missy DeMarinis added a pair of free throws for the Spartans, Fitch's Anissa Hill connected on a 3-point shot with 11 seconds left to pull the Falcons (7-5, 2-3) within a point, 55-54.
But DeMarinis sank two more free throws to seal the win.
"This is a big win," said Boardman coach Ron Moschella, whose team hasn't lost to the Falcons since 1994. "It helps us a lot, it helps our identity."
This season, Moschella said, the squad has suffered through a number of injuries.
"Tonight, our kids battled," he said. "They played hard, they played good defense."
He said his team's free throw shooting down the stretch made a huge difference. The Spartans were 13 of 13 from the line in the second half.
"Everyone here saw a great game tonight," said Fitch coach Stacie Cepin. "Boardman is the program to beat in the area.
"This isn't the end of the season. It's just a bump in the road, and we're going to get better."
Brenda Thompson drove the lane for a layup to give Fitch an 18-14 lead at the end of the first quarter.
Fitch's lead reached nine points in the second quarter before Boardman mounted a comeback. Lipke sank a shot and added a free throw for the Spartans to cut Fitch's lead to 34-29 at halftime.
In the second half, Boardman's strong defense held Fitch scoreless for the first half of the third quarter. The Spartans scored eight unanswered points and took a 37-34 lead halfway through the third quarter when Nikki Hillard drove the lane and sank a layup.
Erica Braxton sank a field goal to pull Fitch within a single point, 43-42, at the end of the third quarter.
Boardman's Missy DeMarinis sank a 3-pointer at the start of the fourth quarter to give the Spartans a 46-42 lead.
But Fitch continued to battle, taking a 49-48 lead when Snowden sank a 3-pointer with only two minutes remaining. A basket by Meenachan put the Spartans in front again, but Erica Braxton scored to give the Falcons what would be their final lead, 51-50.
Boardman outscored Fitch 7-3 in the game's final 37 seconds.