GOP-led House votes to repeal Obama's health-care overhaul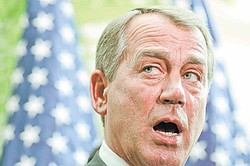 ASSOCIATED PRESS

Photo
House Speaker John Boehner of Ohio, speaks during a news conference on Capitol Hill in Washington, Wednesday, Jan. 19, 2011, to discuss the upcoming vote to repeal the health care bill.
Staff/wire report
WASHINGTON
Swiftly honoring a campaign pledge, newly empowered Republicans pushed legislation to repeal the nation's year-old health care overhaul through the House Wednesday night, brushing aside implacable opposition in the Senate and a veto threat from President Barack Obama.
The 245-189 vote was largely along party lines, and cleared the way for the second phase of the "repeal and replace" promise that victorious Republicans made to the voters last fall. GOP officials said that in the coming months, congressional committees will propose changes to the existing legislation, calling for elimination of a requirement for individuals to purchase coverage, for example, and recommending curbs on medical malpractice lawsuits.
Republicans also intend to try to reverse many of the changes Democrats made to Medicare Advantage, the private alternative to the traditional government-run health care program for seniors.
Like the repeal bill itself, these other measures will require Senate approval and a presidential signature to take effect, and the prospect is for months of maneuvering on the issue.
Debate across two days leading to the vote was markedly restrained, as lawmakers in both political parties observed self-imposed vows of civility in the wake of the shooting rampage in Arizona that left six dead and Rep. Gabrielle Giffords wounded.
But there was no mistaking the significance many first-term Republican lawmakers attached to a day they had long waited for, finally getting a chance to speak and then vote on the House floor against a law they had campaigned for months to repeal.
Rep. Jeff Duncan, R-S.C., said the legislation produced by Obama and congressional Democrats was a "job-killing, socialistic" approach to health care. Rep. Frank Guinta of New Hampshire, who defeated a Democratic incumbent last fall, said it was misguided, needing repeal.
"The American people have soundly, soundly rejected the Democrats' government takeover of health care," said Rep. Sandy Adams of Florida.
Rep. Steve Southerland, also of Florida, said the law imposes a crushing tax burden on businesses, and he predicted "1.6 million jobs will be lost by 2014 due to this mandate" to require many businesses to provide coverage for employees.
Both Floridians won their seats by turning out Democratic incumbents.
Valley Rep. Tim Ryan, D-17th, however, said, the vote clarified what the new Republicans in Congress stand for:
"They are saying to every Medicare recipient that is struggling to make ends meet that they want them to pay for co-pays for preventative care, while the current system does not charge them. They are saying to all those seniors that fall into the Part D donut hole that they should not get a 50 percent discount on their prescriptions while they are in the donut hole. They are saying to all those under 26 years old that they should no longer be able to stay on their parents insurance. They are saying that a small business that can now deduct the costs of the health care from her taxes should have a tax increase.

"In short, they say the wealthiest country in the world can give bailouts to big Wall St. banks, but cannot provide modest relief for hard working families that play by the rules. All the while, these Republican members will be accepting government subsidized health care benefits. Thank God this vote is purely symbolic and has no real chance of harming the citizens that it is now benefiting."
Rep. Michelle Bachman of Minnesota, a third-term conservative with strong support among TEA party activists, though, said, "This is not symbolic. This is why we were sent here."
Rep. Jim Moran, D-Va., agreed, accusing some Republicans of "the height of hypocrisy" by voting to repeal a vast expansion of health care at the same time they had signed up for coverage for their families through a government-organized program available to lawmakers.
Rep. Frank Pallone, D-N.J., said that despite claims of employment loss, the economy had added jobs in each of the past 10 months.
In one of the most animated speeches of two days of debate, Rep. George Miller, D-Calif., said repeal would return power to insurance companies. "Has anybody, any family in America, any single mother, any spouse, any child, any grandparent met a more bureaucratic system than the American health insurance system? There is no more bureaucratic system."
One area Republican, Rep. Steven C. LaTourette, said he voted for the repeal, "with hopes that it will spur bipartisan cooperation to replace provisions and improve the law."
In addition, he said he continues to support parts of the law, some with solid bipartisan backing.
"We should keep the good, like pre-existing conditions and letting kids stay on parents' plans, and get rid of 1,900 pages that raise taxes, impose higher costs and cost jobs," LaTourette said.
He expressed displeasure that the bill was written behind closed doors and said he fears many will lose their employer-provided plans. The bill ballooned from an effort to help the uninsured into a massive and complicated effort that will harm seniors and small businesses and place additional budgetary stress on states.
LaTourette said further that he's troubled some don't believe the law can be improved. One of the main provisions – the mandate that people get insurance from state exchanges – doesn't happen until 2014, is mired in lawsuits questioning its constitutionality, and the IRS has indicated it might need $5 to $10 billion to implement it and three other provisions in the law, he said.
LaTourette also questioned some priorities in the new law.
"The law is far from perfect when nutritional labeling of donuts is imminent, but it will take a decade to close the donut hole for seniors with high drug costs. We can and should do better."
Newly elected Rep. Mike Kelly of Butler, Pa., R-3rd, also contended the health reform bill was "rushed through Congress last year and signed into law before most lawmakers even read the 2000-page bill.
"We want to reform our health care system to make it more affordable and available, but we want to do it responsibly....
And newly elected Bill Johnson, R-6th, also vowed to work to pass a reform bill that controls costs and ensures that "Americans with pre-existing conditions get the care they need at a price they can afford."
Johnson contended that in his six-county district, which includes Columbiana County, "more than 26,000 senior citizens currently enrolled in Medicare Advantage are at risk of losing this program because of the $200 billion in cuts to Medicare required by the job-destroying healthcare law."
The repeal "will give us the opportunity to start over and enact real patient-focused healthcare reforms," Johnson said.
Three Democrats voted with Republicans on the repeal measure: Dan Boren of Oklahoma, Mike McIntyre of North Carolina and Mike Ross of Arkansas.

Senate Majority Leader Harry Reid has said the legislation will not see the light of day there, but the GOP leader, Sen. Mitch McConnell of Kentucky, said bluntly, "I assure you we will" have a vote on it.
The law faces another challenge, well beyond the reach of Obama's veto pen. More than half the states have filed suits against it, and while some judges have upheld the legislation, one recently ruled it was unconstitutional to require individuals to purchase insurance. The Supreme Court is widely expected to have the final word.
The Obama administration has made a major effort in recent days to emphasize parts of the bill that have met with public approval, including one that permits children to age 26 to remain on their parents' policies if they do not have on-the-job coverage of their own. Democrats also argue that repeal would short-circuit other changes yet to take effect, including a ban on the insurance industry's practice of denying coverage or charging sharply higher premiums on the basis of a pre-existing medical condition.
Republicans intend to address the same issues with legislation they say they will bring to the House floor in the coming months, according to officials who have been involved in discussions on the issue, but no details were immediately available.
Last year, for example, the Republicans proposed a 10-year, $25 billion program to help states fund programs in which high-risk individuals could receive affordable coverage.
GOP leaders are working on the assumption that the repeal legislation will not become law, and they intend to draft future bills as changes to the structure that Obama and Democrats put into place.
On one point, they conceded no change was warranted. Majority Leader Eric Cantor, R-Va., told reporters on Tuesday seniors would be permitted to keep the $250 they have been promised to help defray the cost of drugs under the Medicare prescription benefit.
The legislation Obama signed last year was sweeping in its scope.
The Congressional Budget Office said at the time that when fully enacted, it would spread coverage to tens of millions who now lack it and — in a forecast rejected by Republicans — reduce federal deficits over the next decade.
Beginning in 2014, millions of Americans would be required to carry health insurance, whether through an employer, a government program, or their own purchase. New insurance marketplaces called exchanges would open in each state, enabling individuals and small businesses to pick from menus of private plans that met government standards. Federal subsidies would help defray the costs.