Youngstown Soulfood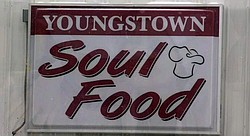 Video
A new eatery serving up some old school delights just opened on Youngstown's Southside.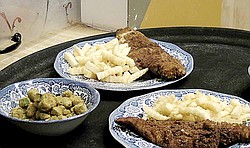 The Vindicator (Youngstown)

Photo
Fried fish, french fries and fried okra are among the menu items at Youngstown Soul Food.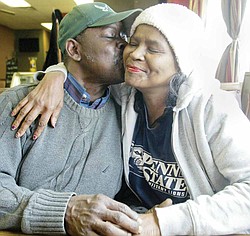 The Vindicator (Youngstown)

Photo
Ron Collier and his wife, Henrietta Dixon-Collier, have opened a new eatery called Youngstown Soul Food in the city's Uptown District at Market Street and Indianola Avenue.
IF YOU GO
What: Youngstown Soul Food.
Where: 2639 Market St. on Youngstown's South Side in the Uptown District, site of the former Mr. Wheeler's restaurant.
Hours: Noon to 7 p.m. Monday through Friday; 1 to 5 p.m. Sundays. Closed on Saturdays. Menu includes smoked ribs, fried haddock, collard greens, chitterlings and various desserts. Breakfast is served all day.
Source: Youngstown Soul Food
By SEAN BARRON
news@vindy.com
YOUNGSTOWN
When it comes to revitalizing the Uptown section of the city's South Side, you might say that Ronald Collier is putting his heart and soul into the task.
He's put his heart into the effort by opening a restaurant and breathing a bit of new life into an area long dominated by boarded-up storefronts and plagued by crime.
The soul part is central in the eatery's name: Youngstown Soul Food.
"Me and my wife have cooked for churches, organizations and block watches for 25 years and figured we need our spot," Collier said recently, referring to his business, 2639 Market St., site of the former Mr. Wheeler's restaurant. "I said we can make this happen."
Collier and his wife, Henrietta Dixon-Collier, have spent years preparing meals for families and friends as well as graduations, family reunions and other gatherings.
That, combined with a desire to take their love of cooking a step further and give back to the community, led to the debut of Youngstown Soul Food, which the city couple opened in mid-December.
The restaurant specializes in old-fashioned Southern offerings such as chitterlings, smoked ribs, cornbread, collard greens, pig's feet, fried haddock and several desserts. Breakfast also is available all day, he noted.
Roughly 90 percent of Youngstown Soul Food's business is carry-out orders, which are available to businesses throughout the Mahoning Valley, he explained, adding that the orders must be at least $20.
Nevertheless, he said, the restaurant is quickly establishing its regular customer base.
Collier, who started the business with his own money, said his main aim is to have a comfortable family-like atmosphere where people can gather and talk to one another. He is undeterred by crime in the area, including last year's drive-by shooting that killed an elderly man and wounded the man's wife.
"I'm here for the long haul and for the people," added Collier, a 1970 South High School graduate.
A family feel is reinforced by the fact that the couple's five children, Jo Ann, Ron Jr., Tequile, Robert and Tonya, provide support and assistance, he pointed out.
Customers, especially those who patronized Mr. Wheeler's, will be hard pressed to miss the blending of original and new features.
The new can be seen on the walls, where two flat-screen TVs stand out against a backdrop of mellow red, yellow and brown paint that replaced the wallpaper. New carpeting was added to the floor, Collier continued.
The old includes the wooden upright benches, coatracks and tables, along with the swinging double doors in the front entrance.
Like cooking, community activism is nothing new to Henrietta Dixon-Collier, who in 1991 founded The Dream Team Block Watch, which has grown to encompass much of the South Side. The block-watch group has more than 150 members, she noted.
Many South Side residents have felt disenfranchised over the years largely because promises to revitalize and bring new businesses to their neighborhoods have failed to materialize, she observed. The restaurant is an encouraging sign for many people, Dixon-Collier said.
"Ron and I figured people need to see some hope," she explained. "This corner [Market Street and Indianola Avenue] represents good memories of Mr. Wheeler's."
Word of the restaurant's opening has spread beyond the Valley, Dixon-Collier said, adding that people have come from Cleveland and Pittsburgh to patronize the restaurant.
The couple also praised Councilwoman Janet Tarpley, D-6th, for her help and encouraging them to make their venture a reality.