Wonderful tale: We moved 23 times; I want a divorce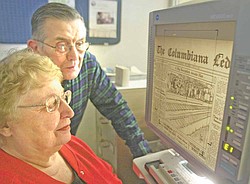 The Vindicator (Youngstown)

Photo
Dorothy Yakubec of Salem and DeWayne McCarty of Columbiana look at a microfilm of the Columbiana Ledger, a now defunct newspaper, at the Columbiana Public Library.
COLUMBIANA
The second entry in the book "Columbiana Ledger Volume Two" tells a wonderful tale:
On July 11, 1917, the paper wrote, "Divorced — Because of her husband, in spite of his name, insisted on moving 23 times in the 10 years that they had been married, Mrs. Elsie Sense, of Massillon, has brought suit for divorce from Jesse Sense."
There's more.
An entry from Jan. 1, 1918, reads: "Born — ROGERS — A fifth little daughter came into the home of Mr. and Mrs. Howard Walters just before Christmas. Mr. W. is ill with the influenza as are some of the children but getting along prety [sic] good."
A July 12, 1931, item reads: "Funeral services for Charles Brannigan, 25, a pilot of the Goodyear blimp Mayflower, who died Friday in Kansas City of burns and injuries suffered a week ago when the blimp crashed into high tension power lines, were held in Bowling Green, Ohio."
These are some of the entries in the new book painstakingly copied from newly found copies of the now defunct Columbiana Ledger.
DeWayne C. McCarty of Columbiana and Dorothy D. Yakubek of Salem compiled the latest entries that cover the Ledger from Jan. 1, 1931, to Dec. 29, 1933, as well as newly found copies of the paper from 1917 to 1921.
Some pages have aged, and McCarty tries to decipher the entries.
McCarty said that years ago, newspapers were lax in facts and spelling. The entries cover births, deaths, marriages, divorces, funerals and anniversaries and are a huge help in genealogy research.
"We copy the mistakes as they are," he said.
Yakubek types his entries into a computer.
Columbiana years ago was much different than it is now, McCarty said. In the 1860s, people traveled by trains, and Columbiana had five hotels.
"In the 1930s it was a melting pot," he added.
The new book has 470 pages that include a full index of names. The cost is $40 plus $5 for shipping and handling. Those desiring a copy can send checks to D. McCarty, 47 Village Court, Columbiana, OH 44408. People can e-mail him at clarks70@sbcglobal.net.
The researchers previously produced two similar books and are already working on a fourth book.