Developers share plans for racetrack and resort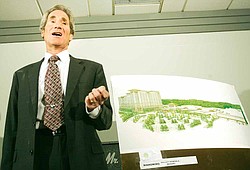 Photo
A proposed $300 million complex in the Mahoning Valley would include a horse racetrack, a golf course, restaurants and stores. Bradford Pressman, one of the developers of what would be called Mahoning Valley Downs and Resorts, explains the project to reporters Tuesday at Mr. Anthony's in Boardman.
BOARDMAN
The Developers of a proposed $300 million complex in the Mahoning Valley with a horse racetrack, resort and possibly a casino say they're making progress in obtaining a track license from the Ohio State Racing Commission.
However, top officials at the racing commission said they wonder what Rick Lertzman and Bradford Pressman, heads of the Mahoning Valley Development Group, are talking about.
Tom Fries Jr., the commission's executive director, described his agency's interaction with Lertzman and Pressman as "less than informal contact."
"I don't know these gentlemen," Fries told The Vindicator during a telephone interview Tuesday. "There haven't been any serious discussions."
Meanwhile, members of the state Legislature from the Mahoning Valley said Tuesday they've been talking with the owners of one of the state's existing seven horse racetracks about relocating to this area for the past eight to 12 months.
"It's easier and quicker to move an established track than [to apply for a license for a new one]," said state Rep. Robert F. Hagan of Youngstown, D-60th.
Hagan said the racetrack owners asked that the facility looking to move not be disclosed.
Lertzman said he's heard that Raceway Park in Toledo was looking to move to Mahoning County.
Officials with Penn National, Raceway Park's parent company, couldn't be reached Tuesday by The Vindicator to comment.
As for the Mahoning Valley Development Group's plans, Fries said no one from the company or its attorneys have spoken to him or any of the five commission members.
John Izzo, the commission's deputy director, is the only person at the agency who's communicated with the group.
Izzo said he had a general conversation with Pressman in late July 2009 about a racetrack application.
Izzo said he sent e-mails that year on July 30 and 31, Aug. 12 and Sept. 10 to Pressman with basic information on applying for a license to establish legal betting at a racetrack.
"It's all been what-ifs," Izzo said in describing his communication with Pressman.
It wasn't until Jan. 5 of this year that Izzo said he received an e-mail from Pressman. That e-mail stated Pressman would be calling the next day.
Instead, Izzo said Pat Quinn, a Columbus attorney for the development group, called. The two didn't speak to each other until last week, Izzo said.
Quinn wants to set up a meeting with the commission to discuss the Valley proposal, Izzo said. A date hasn't been finalized.
At a Tuesday press conference at Mr. Anthony's in Boardman, Pressman said his company has "kept the Ohio Racing Commission up to date" on what it's doing during "frequent discussions."
"We're at a very good place with the racing commission," he added.
Lertzman added that he expects to get a license from the commission by late spring or early summer.
Before the commission could even consider issuing a license, the development group would need to obtain signatures from at least 51 percent of the total number of voters in the last general election from the township in which the racetrack would be located, Fries said.
Lertzman and Pressman have declined to disclose the proposed location of their complex.
Lertzman said Tuesday that the company has an option to buy 200 acres and is working on another option for an additional 200 acres.
When asked about the horse-racing industry in Ohio, Fries said that it is "struggling."
So why would the development group want to open a thoroughbred track?
The others are failing because they are only racetracks, Lertzman and Pressman said.
The company is interested in as much as 700 acres, Lertzman said, for a racetrack, resort, golf course, a 400-bed hotel with a 2,000-seat arena on the first floor, an indoor water park and possibly a casino with slot machines.
There have been attempts to legalize slot machines in Ohio, but they've all failed.
The two said they have investors, including three major companies, lined up to fund the $300 million project, but declined Tuesday to disclose the names. The names should be made public in about three months, Lertzman said.
Also, when asked about their experience with projects of this magnitude, neither gave a direct answer.
Lertzman said he spent 35 years in a family business that shut down other businesses, specifically mentioning Ames, a former department-store chain.
Pressman said he was a podiatrist who stopped practicing about 16 or 17 years ago, then spent time as a stay-at-home father and got into the development business about four or five years ago.
The two were part of a group that backed a failed 2008 ballot effort to bring a Las Vegas-style casino to Clinton County in the southwest part of the state.
They also said they won't ask for any public money or tax breaks to help with this project.
If successful, the complex would provide jobs for 1,500 to 2,000 people on a permanent basis, they said.
There would also be more than 1,000 construction jobs.