MLK Day event honors 2 Valley broadcasters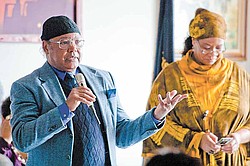 Photo
Ode Aduma shares his thoughts and thanks after receiving the Trailblazer Award for African American Pioneers in Broadcasting at the annual Dr. Martin Lurther King Jr. Luncheon held at VFW post 6488.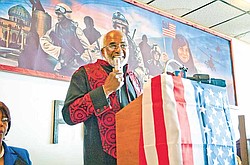 Photo
Reverend Clifford Kimbrough, of Mt. Gilead Baptist Church gives the keynote speech at the Dr. Martin Luther King Jr. Luncheon held by VFW post 6488 and the Ladies Auxilary.
By Bob Jackson
YOUNGSTOWN
Former local TV newsman Ode Aduma said being recognized as a pioneer among blacks in local broadcasting was a high, humbling honor – even though broadcasting wasn't his first choice in careers.
"I didn't choose that profession," he said. "It came to get me."
Aduma and Margaret Linton-Lanier, also a former Youngstown broadcaster, received Trailblazer Awards during a ceremony Monday afternoon at the Donald Lockett VFW Post 6488 in
Coitsville Township. The event was sponsored by the post and its ladies' auxiliary in conjunction with Dr. Martin Luther King Jr. Day.
Aduma said he was working as a fashion artist at the former Strouss department store downtown when he met Frankie Halfacre, another local broadcasting legend, who encouraged Aduma to change careers and become a broadcaster.
"I didn't know anything about news or anything about broadcasting," Aduma said before receiving his award. "All I ever wanted to be was an artist."
But after encouragement from Halfacre and others, Aduma auditioned at two local television stations and was hired in 1972 at WKBN, where he worked as a news reporter until his retirement six years ago.
"It's always an honor to have people recognize you, especially when they say it's a milestone," Aduma said. "It's an honor to be a part of history."
Linton-Lanier, who hosted a community program on local television, was unable to attend due to poor health. Her granddaughter, Nalene Linton of Youngstown, attended the event and accepted the award on Linton-Lanier's behalf.
"Our family couldn't be more proud of our grandmother," said Linton. "She served this city well and was indeed a trailblazer."
Linton said her grandmother is now 94 years old and lives in a nursing home in the Cleveland area.
Herman Adams, chairman of the committee that planned the event, said the post tries to honor black leaders in various areas of the community with Trailblazer Awards each year on Martin Luther King Day. This year, the focus was on local black broadcasters.
"When [Aduma and Linton-Lanier] went into broadcasting, blacks had come a long way," Adams said. "They, and their drive and determination, brought us where we are today and we owe them a debt of gratitude. The average young person doesn't realize how far we've come."
Aduma and Linton-Lanier each received an engraved plaque and a framed portrait of themselves painted by local artist Ray Simon. Both also are members of the Ohio Broadcasters Hall of Fame, inducted together in 2005.
Besides her career in broadcasting, Linton-Lanier also took over operation of the Linton Funeral Home in Youngstown after her husband died, making her one of the first female licensed funeral directors in Ohio, said Stacey Adger.
The keynote speaker for the event was the Rev. Clifford Kimbrough, pastor of Mount Gilead Baptist Church. He urged those in attendance to always remember Dr. King's dream of racial equality and acceptance.
"He brought a message of love. You've got to love people," the Rev. Kimbrough said. "That is what Dr. King tried to get us to understand, that everybody is somebody."
He said King "made a great imprint on the world," doing the job he was sent by God to do.
Even though King was just 39 when he was killed by an assassin's bullet, he had accomplished great things in his lifetime, Kimbrough said.
"It's not how long you live, it's what you do while you're living," Kimbrough said during his fiery remarks, which were flecked with humor.