Automated toll booth delays has GM workers rerouting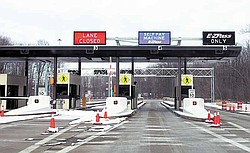 Photo
Problems at this automated toll booth at the Ohio Turnpike exit near the General Motors complex in Lordstown have some employees taking a different route to and from work at the plant. The lane at which a toll collector had been stationed was closed.
By Elise Franco
LORDSTOWN
Issues with the automated toll booth at the exit near General Motors has some plant workers changing direction.
David Green, president of United Auto Workers Local 1714, said over the past two weeks he and about a dozen other workers have experienced the problem first-hand.
The booth in question is at Interchange 216, which exits east to Hallock-Young Road in Lordstown. Green said for the past two weeks he's had issues trying to get through the automated booth.
He said he's had trouble getting the gate to go up once his money is inserted into the machine.
"I've definitely had some issues of my own," Green said. "About a dozen other guys have said they've had issues too."
Green said the delay has caused him to take another route to the plant.
"I've stopped going that way," he said. "I've actually started going the long way just to avoid getting stuck there."
Jim Graham, president of UAW Local 1112, said the issue was recently brought to his attention as well.
"Basically a couple of my retirees have experienced some delays at the toll booth," Graham said.
Lauren Hakos, Ohio Turnpike Commission spokeswoman, said Interchange 216 has been automated since summer 2010. Ohio currently has 10 automated toll booths.
She said the collector was taken away from the Lordstown booth about two weeks ago, when Green said he first began to notice issues.
Hakos said no complaints have come in about the booth, and the elimination of a collector at the location is not likely related.
"Machines are monitored from an adjacent interchange," she said. "I'm not aware that any of our customers have had any significant problems."
Green said, however, that he has called the Turnpike Commission to report the problem and has encouraged others to phone in as well.
"If you go through [the booth] and tell them you're having problems they'll give you a slip of paper with a number to call," he said.
Hakos said method of payment at the booths could cause delays if money is inserted improperly or in the wrong amount. She said motorists insert their ticket and can pay using EZ-Pass, credit card or cash.
"If someone has any trouble with that they can press a button and someone will walk them through it," she said.
Hakos said it's hard to address any potential issues unless she knows exactly what the problem is.
"They should call us and tell us specifically what the problem is so we can address it," she said. "If there's a glitch in the system, and we're made aware of it, we'll send a technician out."
Hakos said anyone having trouble at an automated toll booth should immediately contact the Ohio Turnpike Commission at (440) 234-2081, ext. 1171 or 1172.