Steelers running out of time to join NFL elite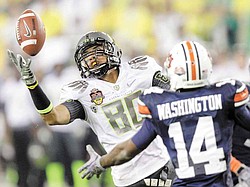 ASSOCIATED PRESS

Photo
Oregon's Lavasier Tuinei (80) reaches out to make a catch as Auburn's Demond Washington, right, defends during the second half of the BCS National Championship NCAA college football game Monday, Jan. 10, 2011, in Glendale, Ariz. (AP Photo/Matt York)
SATURDAY'S GAME
Matchup: Pittsburgh Steelers
vs. Baltimore Ravens
Kickoff: 4:30 p.m.
Where: Heinz Field, Pittsburgh.
TV/radio: (21) (19) (2)/WNIO-AM (1390)
Associated Press
PITTSBURGH
Dealing with Ray Lewis, Ray Rice and Ed Reed of the Ravens will be difficult enough for the Pittsburgh Steelers during their all-AFC North divisional playoff game on Saturday.
In terms of historical perspective, the Steelers also will be competing with Joe Montana and Jerry Rice, Troy Aikman and Emmitt Smith and Tom Brady. And, from their own past, Terry Bradshaw, Franco Harris and Mean Joe Greene.
If the Steelers (12-4) beat the Ravens (13-4), they'll advance to their fifth AFC championship game in 10 seasons and their eighth since 1994. They'll also be a victory away from their third Super Bowl in six seasons. Only four franchises — including Pittsburgh — have won at least three Super Bowls with the same quarterback and core group of players.
While these Steelers are among the NFL's most accomplished teams — their 116 regular-season and playoff victories since 2001 rank third in the league — they are among the oldest. James Farrior and Charlie Batch are 36. Hines Ward and Aaron Smith will be 35 within a few months. Chris Hoke is 34, Casey Hampton is 33, Brett Keisel is 32. Even Troy Polamalu will be 30 in April.
They don't need anyone to tell them what that means, especially since free agency makes it difficult for any championship-type team to keep its key players together for more than a few seasons.
"We have one or two more years left in us," Ward said. "That's why this one is a little more special to us. We're two games away [from the Super Bowl]. And we know how hard it is to get in this position."
Quarterback Ben Roethlisberger is 28 and likely can count on a few more deep playoff runs, but the rest of a group that has repeatedly kept the Steelers in contention probably can't. They've got this season, and maybe next, if they're to join the '70s-era Steelers (4 Super Bowls won with Bradshaw), the 49ers (4 with Montana), the Cowboys (3 with Aikman) and the Patriots (3 with Brady).
They're not printing T-shirts or putting up any motivational signs, but these Steelers want to accomplish it. Especially since no other franchise has done it twice.
"We'd love to be part of the same legacy the previous Steelers had," said Smith, who has been out since mid-October with a triceps injury. "But I think, really, this group is so focused on just winning this one. When we're all said and done and we're 10 years out of this league, we can look back and think about what kind of special group this was. But I think this group is just motivated on winning games and winning Super Bowls right now."
Getting by Baltimore will be a challenge. The division rivals have split their four games during the last two seasons, with each one decided by three points. Only one of their last seven games was decided by more than four points; Pittsburgh beat Baltimore 23-14 in the AFC championship game two seasons ago.
"We know what it's going to take to beat Baltimore here in our backyard," Ward said. "We're excited for the playoffs. A lot of people [in the league] have had two weeks off. They're already on vacation. So we know how rare it is to make it in this position, and the approach we've got to take. Lose and you go home, so the sense of urgency of going out there and doing the task at hand is there."