LeBron sees 'karma' in Cavs big loss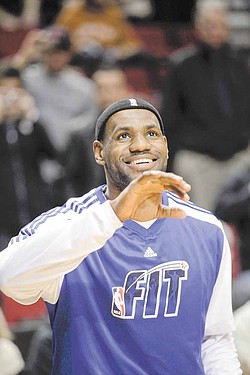 ASSOCIATED PRESS

Photo
Miami Heat's LeBron James warms up before the start of their NBA basketball game with the Portland Trail Blazers Sunday, Jan. 9, 2011, in Portland, Ore.
GAME TIME
Matchup: Cleveland Cavaliers at Utah Jazz
When: Friday, 9 p.m.
Where: Energy Solutions Arena in Salt Lake City, Utah.
Associated Press
CLEVELAND
LeBron James has tweaked Dan Gilbert — and the Cavaliers owner's miserable NBA team — with a pointed tweet.
As James' former teammates were absorbing a 55-point loss to the Los Angeles Lakers on Tuesday night, the player fired off a message on his Twitter account that seemed to be directed at Gilbert.
James wrote: "Crazy. Karma is a b----.. Gets you every time. Its not good to wish bad on anybody. God sees everything!"
In July, after James announced he was leaving for Miami, Gilbert wrote a scathing letter to Cleveland fans questioning the two-time MVP's character and predicting he would take Cleveland's curse with him "down south. ... James will unfortunately own this dreaded spell and bad karma."
The 112-57 loss to the Lakers was the Cavs' 11th straight and most lopsided since joining the league in 1970.
Afterward, Cavs guard Mo Williams tweeted: "embarrassing, I feel like I can't even show my face in Cleve."
James and Gilbert have been at odds since the summer, when the superstar decided to join forces in Miami with fellow superstars Dwyane Wade and Chris Bosh. In an interview with The Associated Press in the hours after James' announcement during an hour-long TV special, Gilbert accused James of quitting in the playoffs the past two seasons.
And while both insist they've moved on, James' tweet seems to show he has lingering bitterness toward Gilbert.
His social network message was poorly received in Cleveland, where fans still feel betrayed by him spurning them. It's bad enough the Cavs are struggling, but James decided to kick them when they're down.
The Akron native was rudely received by Cleveland fans when he returned on Dec. 2. The Heat demolished the Cavs 118-90 that night, and both teams haven't been the same since. Miami has gone 19-1 after their visit too Cleveland, while the Cavs are 1-20.
Little has gone right this season for Cleveland, which got off to a 7-9 start. But the losses have been mounting along with several key injuries. Last week, hustling center Anderson Varejao suffered a season-ending injury when he tore an ankle tendon during a non-contact running drill in practice.
In their epic loss to the Lakers, the Cavs played three rookies for long stretches and established a new team record for fewest points. They also sustained their worst loss since getting beat 141-87 in the 11th game of their inaugural 1970 season.
It was so bad that the Lakers could have gone scoreless in the second half — and still forced overtime.