Lariccias donate to give abused animals a voice
RELATED: Officials chew over countywide humane solutions
By DENISE DICK
denise_dick@vindy.com
BOARDMAN
Anthony and Mary Lariccia will contribute $50,000 annually to Animal Charity so that animals continue to have a voice.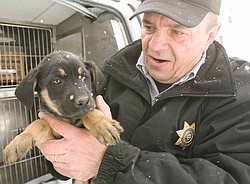 The Vindicator (Youngstown)

Photo
Dave Nelson, Mahoning County dog warden, holds one of several puppies he found Wednesday under a porch on Halleck Street on Youngstown's North Side. The puppies will be taken to the county dog pound, given their shots and made available for adoption.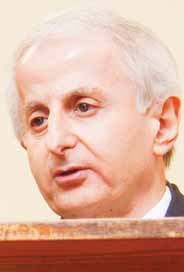 Photo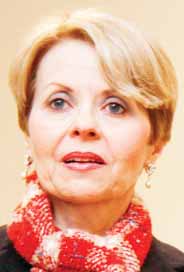 Photo
The contribution will continue until the agency regains its financial footing, the township philanthropists said.
The agency, the only humane agency in Mahoning County, decided Monday that it would no longer provide that service because of financial problems.
That meant there would be no one to respond to calls of animal abuse, cruelty or neglect.
The Lariccias, who are animal lovers, read the story about the changes in Wednesday's Vindicator and called the agency offering their assistance.
"We don't want that agency to close down because the animals have no voice," Tony Lariccia said.
Mary Lariccia said the family tries to help when animals, the elderly or others who can't speak for themselves are in need.
"When I went to bed last night, I thought of all the innocent animals that didn't have anyone to care for them," Mary Lariccia said. "It really bothered me. It kept me up."
Mahoning County needs a humane society, she said.
"We need to help those poor innocent animals," Mary Lariccia said. "We'll provide $50,000 every year until they can get on their feet."
Gary Pilcher, chairman of the Animal Charity board, said the couple's contribution saved the agency.
"The most urgent problem is Friday's payroll, which now we're OK with," he said. "We're still sorting through all of this. This will keep us afloat. It doesn't mean we're flush with cash and can sit back and relax."
The agency's problems are multi-faceted, Pilcher said.
"We're trying to get a handle on this," he said. "We have unpaid bills from last November."
How precisely the donation will be used hasn't been determined, but the humane-agent position will be restored. It won't necessarily be the same person who previously occupied that position though.
"A huge part of [the Lariccias] interest was they said they worry about the abused animals and that they can't sleep at night," Pilcher said. "The first order of business is going to be to trying to get that back on track."
He said an emergency board meeting might be scheduled as early as today.
Pilcher expects the board will restaff the eliminated positions — the humane agent, chief executive officer and two part-time caretakers — although they may not rehire the same people.
He said the Lariccias donation "literally saved us. We might not have been able to pay people on Friday."