Ohio mandates few services from townships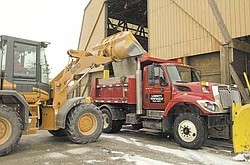 Photo
A Liberty Township snow plow at the township garage on Gypsy Lane is filled with salt in anticipation of snowy weather. Maintenance of township roads, including snow and ice removal, is another of a township's mandated duties.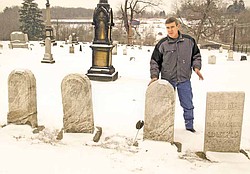 Photo
Tim Monroe, road and cemetery superintendent in Liberty Township, stands in Church Hill Cemetery at state Route 304 and Belmont Avenue. Cemetery maintenance is one of the mandated duties of township trustees..
Ohio law states that townships are required to provide "mandated duties and permissive duties" while there are some "prohibited actions." "Quality-of-life" services such as police, fire and recreation are optional.
Mandated duties: Maintenance of roads; maintenance of cemeteries including lots, roads and memorial; maintenance of township buildings; and assigned duties of trustees that include an inventory of township property, appointment of fire and police chiefs; and filling vacancies in office.
Permissive duties: For township trustees, these include adoption and enforcement of township zoning; appointment of administrator; fire and police; purchase and sale of real estate; erection and maintenance of memorials; establishment of parks, lighting districts, senior citizen facilities and sidewalks; contracting sewer and water services; and regulation of public nuisances.
Prohibited actions: Trustees have no authority to act in correction of draining problems on private property, providing water and sewer utilities except by contact or formation of a sanitary district; gun control regulation; health and sanitation regulations; gas and oil well drilling; cell towers in commercial districts; regulation of public utilities; local cable franchise agreements; agricultural use of property; and posting of bond or insurance to use township roads.
State routes in Liberty: These roads are maintained by Ohio Department of Transportation. They are Routes 193 and 304 and Interstate 80 and the 711 connector.
County roads in Liberty: There are 14 county roads in Liberty that are the responsibility of Trumbull County Engineer's office. These roads are Anderson Morris Road, Applegate, Colonial Drive, Crews Hood Road, Gypsy Lane, Homestead, Liberty Street, Logangate, Loganway, Shannon Road, Sodom Hutchings Road, Tibbetts-Wick Road, Trumbull Avenue and Warner Road.
Cemeteries: Church Hill Cemetery, Route 304 and Belmont Avenue; and Seceders Cemetery, Route 304 and Loganway, which is not active.
Sources: Liberty Township and Mark Finamore, law director
By LINDA M. LINONIS
LIBERTY
Residents of Ohio townships might be surprised to learn that state law requires townships to provide few of the services people have come to expect.
Among mandated duties are maintenance of township roads and cemeteries and improving or building a township hall. "Quality-of-life" services such as police, fire, zoning enforcement, recreation programs and parks fall under "permissive duties." These are not required by law but are usually expected by residents.
Mark S. Finamore, township law director, wrote an article on "Be an Effective Trustee" for Ohio Township News that details mandated and permissive duties and prohibited actions. "Ninety percent of what residents want fall into the permissive duties," he said. If a township is financially able, it can provide some or all permissive duties.
Pat Ungaro, township administrator since 2002, said as the township has grown, so has its services. They all come at a cost, and rising ones at that. The township's 2011 budget is $7.2 million. Police and fire budgets each are about $2.3 million. These funds are derived from levies that residents have approved. The township was organized in 1806. Its police department was founded in 1961 and fire department in 1946.
Ungaro said the township, like so many governmental entities, "faces challenges" in its budgets and funding. The township is in contract negotiations with police and fire unions; the road department has a tentative agreement.
Ungaro and trustees, Jodi Stoyak, Stan Nudell and Jason Rubin, are concerned about the possibility of raises given the current economy.
The township population, Ungaro said, was at 13,500 for the last decade or so but "guessed" that the recent census will put the count at about 11,500.
"Liberty experienced growth in the 1950s and grew fast for 25 years," said Ungaro, a former Youngstown mayor. He noted the ups and downs of businesses opening and closing. Walmart has boosted traffic on Belmont Avenue, he said, which has experienced a "boom" in small businesses of all sorts.
Ungaro said he envisions "everything getting significantly smaller." He cited the township government and staff as an example. Through attrition, retirement, changing jobs and so on, he said, staff has been reduced.
The police department has downsized from 24 to 16 officers; the road department from 11 to five employees.
Ungaro said one of his talents is obtaining grants, but the township can't come up with matching funds.
Tim Monroe, road and cemetery superintendent, said on its 61 miles of roads, the township is responsible for snow and ice removal, patching roads along with maintaining structures for water conveyance, and sign maintenance (signs such as speed limit, stop signs, etc.)
He said state Routes 193 and 304 and the 711 connector are the responsibility of Ohio Department of Transportation and 14 county roads in the township fall under maintenance by the Trumbull County engineer's office.
Monroe said the two cemeteries under his supervision are Church Hill at the corner of state Route 304 and Belmont Avenue and Seceders Cemetery, Route 304 and Loganway, which is not active.
Seceders was a church cemetery that became the township's responsibility in the early 1970s because the church could no longer care for it. "There are markers from the 1700s there," Monroe said.
More like this from vindy.com