Chapter closes on Cherol's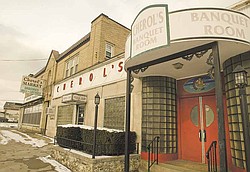 Photo
Cherol's, a fixture on Youngstown's West Side for decades is changing hands.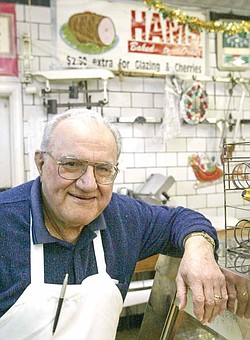 Photo
Joe Cherol near the meat counter in his store.
By WILLIAM K. ALCORN
alcorn@vindy.com
YOUNGSTOWN
A storekeeper who has forged a place in the history of Youngstown's West Side is calling it a career. Joe Cherol, whose family founded Cherol's Market and Deli in 1917 on Waverly Avenue, is retiring Friday.
Like all nine of the Cherol brothers, he began working in the store on Waverly as a child. The family lived above the business.
The market moved to the corner of Salt Springs Road and Elberen Street when he was 8.
The Torch Bar was added to the store in the 1930s and later the Club Merry-Go-Round/banquet hall, which had a revolving bar, was built, It attracted many of the big-name entertainers of the 1940s and 1950s.
Las Vegas was just getting started, and acts would stop in Youngstown on their way from New York City to Vegas, Joe's wife, the former Laura DiPiero, said.
Some of the acts that appeared here were Vic Damone, the (Nat) King Cole Trio, The Mills Brothers, Ella Fitzgerald, and Ethel Waters.
"It was work, and it was fun. I liked them all," said Joe, who turned 86 on Jan. 4.
"When [singer] Frankie Laine asked to use the phone, I got to shake hands with him, and I met Patti Paige, the Singing Rage," he said with a smile.
This was during World War II, and soldiers from Camp Shenango in Sharon, Pa., were bused over here on the weekends, Laura said.
After graduating from Chaney High School in 1943, where he played football, Cherol served in the Navy from 1943 to 1946 during the war. After the war, he attended the University of Pittsburgh, where he also played football, on the G.I. Bill, graduating in 1950 with a bachelor's degree in business.
After that, he moved back to Youngstown to help his mother and brothers, John and Tony, operate the family business.
Sitting on a box in the banquet room kitchen off the bar, Cherol reminisced about the business his parents, Rosario and Rachel, started and in which he spent his entire life.
His father died of pneumonia in 1933 at 43 two weeks after returning from a visit to Italy, leaving his mother with nine boys to raise. She died in 1967.
"I'm the middle man, number 5. All the rest have passed away," he said.
Seven of the brothers served in the military, including five at the same time during WWII.
"The '40s, the '50s and the '60s, those were the good years. The steel mills were going good. People were happier then. ... They had a little money to spend. The young people today, too many of them have to depend on welfare," he said.
"People used to spend money in our store, but now they go to the 'big guys,'" Cherol said.
Also, he said there are food giveaways in the neighborhood. "It's hard to compete," he said.
Laura, a 1945 Chaney graduate who married Joe in 1952, also began working in the Cherol family business as a child. After high school, she got a job there and also worked with her mother, Neva DiPiero, who was a caterer and from whom she learned to cook.
Laura operated the banquet hall for weddings and other events until retiring about five years ago.
"She is a wonderful cook. People still stop me on the street to compliment the food," Joe said of his wife.
"I really enjoyed when we were catering weddings and parties. They were the best years, and we made money. Bringing in the big acts was expensive, and we lost money on those," he said.
Laura said she used the same crew as did her mother, most of whom were related. "It was like one big family," she said.
While Joe is leaving the business, parts of it will be retained and expanded by new owners, Ron Sefcik, a former Youngstown councilman, and Bill Pizzuto of Canfield.
Sefcik, who has worked in the store for 36 years, where he started sweeping floors and stocking shelves, said he will continue the deli operation and offer dairy products, hot sandwiches and snack items. He also plans to reopen the banquet hall as soon as possible.
Pizzuto, whose equipment yard for his firms, All Excavating and William Pizzuto and Co., is on Waverly, said he has stopped at Cherol's just about every day for years. He said the store area will be converted to a game room.
Even though Joe is just days from leaving the business that has been his life, he still puts in 12 hours a day. He said he is not sure yet what he will do and how he will adjust to having time on his hands.
He said he and Laura plan to visit their daughter, Cynthia Felix and their grandchildren, Neva and John in North Carolina, more often. Also, he has never been to Italy, his father's homeland, and would like to go there with his wife to visit her 97-year-old aunt.