Beating cancer: Drum It Up fundraiser to aid stricken Girard couple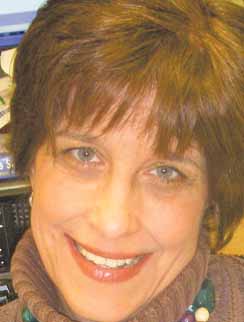 Photo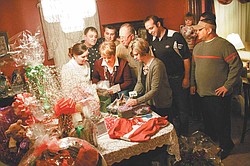 Special to the Vindicator

Photo
From left: Amy Kren, Paulette Kren and Holly Watts put together a couple more baskets for their upcoming fundraiser. In the back watching (from left) is Richard Weimer, Matthew Watts, Larry Kren holding Sophia Kren (2), Luke Watts and Scott Weimer. This is at Paulett and Larry Kren's home in Girard. They had more 60 baskets.
The event: 8 to 11 p.m. Saturday at Girard Eagles Hall, 26 W. Wilson St., Girard. Music will be by First Degree. Appetizers, desserts and setups will be provided. There will be a 50/50 raffle and Chinese auction with baskets featuring themes of Italian, sports, ice cream, snacks and more. Donations have come from a variety of businesses in Girard and the Mahoning Valley. Those attending will be asked to sign special T-shirts with the slogan, "Together We Will Fight, Together We Will Win," for the couple as a show of support.
Tickets: Advance tickets are suggested; the price is $10. Call Holly Watts at 330-729-9610 or Paulette Kren at 330-545-1905. Tickets also will be available at the door. Benefit fund: Donations may be made at any Farmer's National Bank for the benefit of Debbie Watts. There are offices in Girard, Boardman and Niles.
Proceeds: Funds will help with the couple's medical expenses and treatments and related costs.
By LINDA M. LINONIS
GIRARD
Family and friends have tapped their enthusiasm and energy to host a Drum It Up for Deb and Marty Watts fundraiser.
Deb Watts was diagnosed with metastasized gastrointestinal cancer in May 2010. She received a present for her 53rd birthday Friday — the news that a second set of chemotherapy treatments had reduced the tumors. "The news really perked me up," she said. She returns to treatment Monday.
Her husband, diagnosed with neck cancer in November 2010, is in chemotherapy.
Deb Watts said she and her husband are "humbled" by the tremendous "outpouring of support" from the Girard community and Mahoning Valley, current and former co-workers, area businesses, former school classmates and even strangers. "The support is beyond words," she said.
Deb Watts plans to attend the fundraiser Saturday at Girard Eagles Hall; her husband, still in treatment, will not. A video will be shot for them as a keepsake.
Deb and Marty Watts are longtime Girard residents. Marty graduated from Girard High School and is employed in skilled maintenance for Girard schools. His wife, a Chaney High graduate, works for Pharmacy Data Management in Poland.
The fundraising team includes Holly and Luke Watts, the couple's daughter-in-law and son; Matthew Watts, son of Deb and Marty Watts; Richard and Scott Weimer, father and brother of Holly Watts; and Paulette and Larry Kren, friends.
Holly Watts said the support for the Watts' fundraiser has been amazing. "When there's a need in Girard, the community really pulls together," she said. "There's something about a small community ... when someone in it needs help, people support one another."
Holly Watts said her in-laws' cancer was "self-discovered" when each found a lump. Deb Watts is being treated at MD Anderson Cancer Center in Houston, and by Dr. Antoine Chahine of the Blood and Cancer Center in Canfield.
"The Texas center and Dr. Chahine work closely to devise a treatment plan," Holly Watts said. Deb Watts went to the Texas center because it's known for its specialization in cancers and its technology. Dr. Chahine also treats her husband.
Proceeds from the event will help pay for travel expenses for Deb Watts and other incidentals for the couple not covered by insurance.
"They're both looking forward to going back to work and getting on with life," Holly Watts said.
Paulette Kren, who has known Marty Watts since first grade, said the couples are long-time friends. In 2001, she and Deb Watts were diagnosed with breast cancer.
"When you're faced with your mortality, you look at life differently," Kren said, adding that she and Deb have become even closer friends since they faced and overcame breast cancer together.