Bank shot stuns Tigers at the buzzer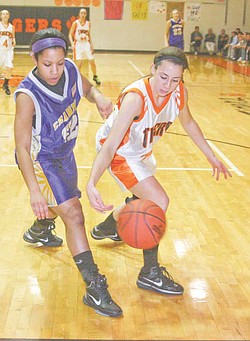 Special to the Vindicator

Photo
Champion's Briana Lewis (22) and Jenn Bjelac (14) go for the ball during theirr game Monday night in Newton Falls.
GAME TIME
Next: Mineral Ridge at Lisbon, Thursday, 7:30 p.m.
Next: Crestview at Columbiana, Friday, 6 p.m. .
By Doug Chapin
NEWTON FALLS
In the end, after a war of attrition that featured 66 free throws and five girls who fouled out, it all came down to a 3-pointer thrown up hurriedly from the right wing, a sort of half hook shot that banked in just before the buzzer.
Champion High sophomore Darian Rogers nailed the aforementioned shot — on just her second field goal attempt in the game — as the Golden Flashes defeated Newton Falls High, 56-55, Monday in an All-American Conference Blue Tier showdown.
The Flashes (9-2, 4-0) have won nine straight. Newton Falls (9-2, 2-1)saw a nine-game winning streak end. The Tigers played without leading scorer and rebounder Destiny Prusky who suffered a hand injury Jan. 3.
Rogers is part of a Champion bench that has improved through the first half of the season.
"We have gotten good production off the bench this season. Last game we had 24 points off the bench," Champion coach Jeff Thompson said. "Tonight, Rogers took the shot, it might have been a bank, it might have been a hook, but she took the shot.
"A lot of people thought, based on the changes that occurred on our team, that we weren't going to be a good team this year. I think the kids took that to heart. We know we've had changes on our team, but we have kids that can play."
Champion battled back from a 19-8 deficit after the first quarter and never caught the Tigers until the final shot.
"I thought my group played well the whole game. It was just unfortunate the shot went in at the buzzer," Newton Falls coach Mark Baker said. "They shot the shot that we wanted them to shoot.
"What are you going to do? It went in off the top of the glass."
Ahead 42-33, Newton Falls missed its first eight field goal attempts in the fourth quarter and Champion closed to within 42-41. The Tigers recovered, however, and led 53-47 with 1:13 remaining.
But the Tigers, who shot 68 percent (28-of-41) from the foul line, made just two of eight free throws in the final 48 seconds.
Buckets by Lindsay Swipas and Haley McAllister got the Flashes to within 54-53 with 23 seconds left. Brooke Barreca made one of two free throws at the eight-second mark, setting up Rogers' heroics.
"We talked at halftime, I think it was a nine-point game, let's get it to a four- or five-point game," Thompson said. "These kids have been winners, they've been in pressure situations.
"We knew if we stayed focused and got back within a four- or five-point game, we're going to be fine. It was about just staying focused and doing what we need to do."
McAllister had 17 points and nine rebounds for Champion and Kiser had 11 points and 12 boards. Swipas added nine points and Briana Lewis eight.
The Tigers got 16 points from Barreca, 14 from Rachel Ellis (along with five steals) and 11 from Angela Giuliano.
Champion lost Kiser, Lewis and Jessica McKnight to fouls and the Tigers lost Giuliano and Jenn Bjelac.
Champion was 17-for-25 (68 percent) from the line and 19-for-49 (39 percent) from the field. Falls shot 13-for-53 (25 percent) on field goals. The Tigers missed Prusky on the boards where the Flashes held a 38-23 advantage.