Show presents ideas for wedding needs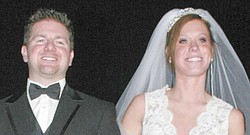 The Vindicator (Youngstown)

Photo
Rob Naples and Carlie Thomas model wedding attire during Evaline's Bridal Show at Covelli Center Sunday.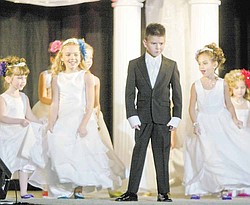 The Vindicator (Youngstown)

Photo
Christopher McMahan, 7, of Niles models a ring bearers Tuxedo while flower girls model dresses during Evaline's Bridal show Sunday at Covelli Center
By ELISE McKEOWN SKOLNICK
YOUNGSTOWN
Candles and flowers lining the entryway set the mood for brides-to-be.
They, and their fianc s, family members and friends filled the Covelli Centre on Sunday for Evaline's Bridal's annual show.
They were looking for the perfect gown, photographer, or other wedding needs, and they had many choices.
Vendors offered catering, limousines, entertainment, cakes and more.
"We really brought together some of the best vendors in the area to help the newly engaged brides find all the things they need to start planning their wedding," said Lori Dubasik, owner of Evaline's Bridal. "Because every bride says, 'I just got my ring, and I'm engaged. Now what do I do?' And this is where they begin."
Amanda Glenn of Warren attended last year's event to help plan her sister's wedding. This year, it was her turn.
She didn't know where to get started in planning her own wedding, Glenn said, but the variety of vendors helped.
"It's nice to be here and for everybody to be so helpful," she said.
Glenn will marry Chris Cochran, also of Warren, July 1, 2012.
Laurie Glenn, her mother, said last year's show was helpful in planning her youngest daughter's wedding.
"I think it's great that they have all the vendors in one area," she said. "It makes it very accessible and convenient."
Lori Hoelzel and her fianc , Joe Shelby, both of Youngstown, became engaged on Christmas Eve. Their wedding is set for Sept. 1, 2012.
"I wanted to see what was local and what was around here," Hoelzel said. "We are really proud to be from Youngstown, so we wanted to stay local and support local businesses."
Options weren't limited to wedding-day needs. Dry cleaners, honeymoon venues and a scrapbooking store were among the vendors.
It was the first bridal show for Angela Vincent, owner of The Scrapbook Studio and Caf in Niles.
"We cater to a variety of special events that everyone experiences in their lives, so being a part of the bridal show gives us an opportunity to introduce what we have and what we do to brides," Vincent said.
After the wedding, she noted, these same women can find the scrapbooking supplies they need for the various events in their life, such as the birth of a baby or school events.
"I mean, everything is always a scrapbook moment," Vincent said.
Evaline's Bridal is at 211 E. Market St., Warren.