600 seek bargains for train hobby
The Vindicator (Youngstown)

Photo
Jim Pope of Berlin Center, president of the Youngstown Model Railroad Association, holds a railroad lantern during model railroad flea market Sunday at McMenemys in Niles.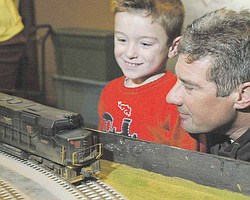 The Vindicator (Youngstown)

Photo
Michael Katula and his son Michael 4, check out model trains during model railroad flea market Sunday at McMenemys in Niles. They are from Struthers.
By Jordan Cohen
NILES
Electronic games and gadgets seem to be the hobbies of today, but advocates of model railroading say that no one should try to relegate their passions to history.
To prove the point, an estimated 600 people turned out at McMena-my's Banquet Center on Sunday to look for bargains on scale models of old-time locomotives, passenger and freight cars, water towers and other displays associated with a hobby that some attendees referred to as an obsession.
"It's like an art form," said Michael Punzalan, Warren, one of the vendors.
"To get this crowd in here when you consider what the economy is like is phenomenal."
Jim Pope, president of the Youngstown Model Railroad Association, estimated the turnout at 600 people and called it a "very good turnout."
More than 75 vendors placed a wide variety of model-railroad trains and artifacts on 180 tables. Besides scale models, hobbyists could find railroad-oriented books, photographs and clothing.
Pope, 70, wore what he described as an authentic railroad-conductor hat that he purchased from an estate sale.
As vendors made clear, all train models are not the same, with one size of scale models established for toy trains and a larger scale for the model railroads.
"I'm a toy-train guy, and there's a whole world of difference," said Bruce Irwin, Ellsworth, who was selling models from Lionel trains of the 1930s and 1940s.
Some vendors expressed concern about the hobby's ability to attract young people in the age of Wiis and "World of Warcraft" and other electronic games.
"That is one of the things we're worried about," said Punzalan, 35. "In our club, we've only had two people under the age of 20."
In the hope of igniting interest in the young, the Western Reserve Modular Railroad Club set up a 12-by-16-foot exhibit with several model trains running through an ornate display.
"We do have electronic controls now, and I'm seeing more young people express an interest," said Richard Ulrich, Austintown, club president.
One child avidly watching the display was 7-year-old Emma Barborak of Sharon.
Her father said he bought her a train set several years ago, and she's been hooked ever since.
"We had our own model-railroad show in Sharon, and she ran the trains," said her father, Richard Barborak.
Pope said the 52-year-old Youngstown Model Railroad Association has 45 members and is based in a former church in Austintown, which it purchased two years ago.
He, too, hopes that young people will see the value of the hobby through the association's efforts.
"We hope this will open their eyes," he said.