Philadelphia's McGlynn is at center of it all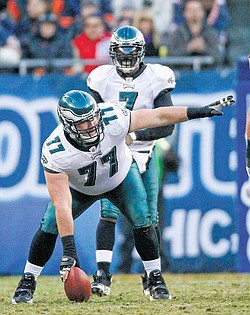 ASSOCIATED PRESS

Photo
Philadelphia Eagles center Mike McGlynn and quarterback Michael Vick in the first half of an NFL football game against the Chicago Bears in Chicago, Sunday, Nov. 28, 2010.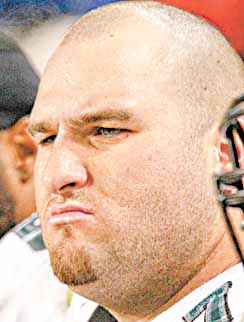 Photo
ASSOCIATED PRESS
Philadelphia Eagles center Mike McGlynn on the bench in the second half of an NFL football game against the Chicago Bears in Chicago, Sunday, Nov. 28, 2010.
By Joe Scalzo
YOUNGSTOWN
Last January, Mike McGlynn was a 24-year-old backup offensive lineman for the Philadelphia Eagles who hadn't appeared in a single game during the 2009-10 season — his second in the NFL.
He and his wife had just had their first baby and it would have been understandable if, during one of those long nights of feeding and diaper-changing, McGlynn had questioned his NFL future.
It never happened, he said.
"I knew what kind of a player I was," said McGlynn, a 2003 Austintown Fitch High graduate who spoke by phone earlier this week. "I knew I had a future in this league and I knew if I got an opportunity, I'd be good."
Eight months later, he proved it.
After starting center Jamaal Jackson went down with a season-ending triceps injury in Week 1, McGlynn stepped into the starting lineup for the first time in his career and stayed there for the next 14 games.
Although he battled a stomach virus last week and didn't start the finale against Dallas on Sunday, he came on as a reserve and has appeared in all 16 games for the NFC East champion Eagles (10-6).
Next up is today's playoff game against the Green Bay Packers.
"It's been a fun year," said McGlynn, who appeared in four games as a rookie two years ago, including a 26-14 playoff loss. "Playing in the spotlight every week, having a lot of night games and going out there every week and competing is something else.
"I'm just realizing my dream to play in the NFL has come true."
McGlynn (6-foot-4, 315 pounds) was a four-year starter at Pitt before getting drafted in the fourth round (109th overall) by Philadelphia in 2008. He is one of just three former Falcons to play in the NFL, joining kicker Jeff Wilkins and defensive lineman Mike Calhoun. (Offensive lineman Dan Gerberry, another Fitch graduate, has spent the past two years on Detroit's practice squad.)
"The feedback from back home has been very positive," he said. "We don't have a lot of guys from Fitch who've played in the NFL and I think people are excited to see me play."
Although playing center is a fairly unglamorous position, McGlynn has made a few headlines this year. In November, the NFL investigated his claim that Redskins safety LaRon Landry spit in his face. And on Sept. 12, he caught his first pass when Kevin Kolb's pass deflected off a Packer defender. He gained 1 yard.
"I saw it go up in the air and I grabbed the ball and said, 'Oh man, I'm going to get hit hard,'" he said, laughing.
Of course, most of the Eagles' passes have been thrown by controversial quarterback Michael Vick, who regained his form in leading the Eagles into the playoffs in the first year of the post-Donovan McNabb era. Although Vick is loathed by many for his role in running a dog-fighting scheme, McGlynn has nothing but positive things to say about him.
"I know he's a controversial guy, but he's been a great teammate, and he's done everything right since he's been here with the Eagles," McGlynn said. "Playing with him is pretty cool. He's a highlight reel."
While 2010 was the best year of McGlynn's career on the field, it was also positive off it. His wife Megan gave birth to their daughter, Sydney, on Jan. 12, an event McGlynn called "the greatest thing that's ever happened to me."
"It amazing watching her grow up and seeing yourself inside some of her features," said McGlynn. "I see it especially when she throws tantrums. She's bull-headed, just like me, so the next few years are going to be pretty interesting."
Sydney started sleeping through the night at two months old and just started walking two weeks ago. If all goes well, McGlynn will play long enough to see her cheer him on from the stands (and actually know what's going on).
"It's been a pretty good year for me, career-wise and family-wise," he said. "It's all I expected it to be.
"I've just got to keep it going, keeping grinding and hopefully by the end of the year we'll have four more wins, win a Super Bowl and make it even more memorable."