Mayor targets justice system in community gala address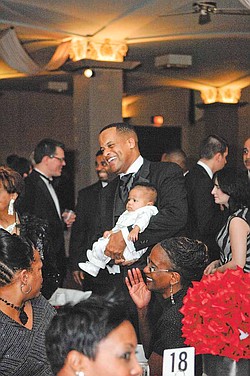 The Vindicator (Youngstown)

Photo
Mayor Jay Williams and his son Ethan meet and greet attendees of the Mayor's Community Celebration at Stambaugh Auditorium.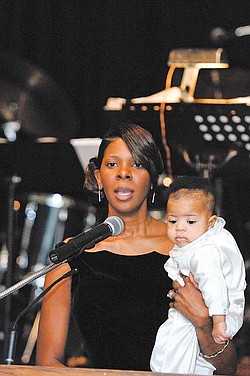 The Vindicator (Youngstown)

Photo
Sonja Williams, wife of Mayor Jay Williams, and their son Ethan welcome the attendees of the Mayor's community Celebration at Stambaugh Auditorium on Saturday.
By Denise Dick
YOUNGSTOWN
It's time to end the dysfunction of the criminal justice system in Mahoning County, said Mayor Jay Williams.
He told the crowd Saturday at the Mayor's Community Celebration at Stambaugh Auditorium that he'll accept responsibility for the aspects of that dysfunction that occur within the city.
"But I won't take responsibility for the failures and indifference of the criminal justice system outside of the city, in Mahoning County," Williams said.
Firearm specifications that would result in mandatory prison sentences shouldn't be dismissed, and high-level felonies shouldn't be plea- bargained down, he said.
"It's time for fewer plea bargains, more trials, stiffer sentences and more accountability," Williams said.
The mayor also said that 2011 would see the completion of the revision of the city's code-enforcement system and the strengthening of Youngstown's partnership with Lien Forward Ohio.
The city also will continue to build on its relationships with Youngstown State University, the city schools, Youngstown Development Corp. and Mahoning Valley Organizing Collaborative.
Youngstown must develop its vision for the future.
"Youngstown 2010 must become Youngstown 2020," Williams said. "Where we've been successful, we must continue to build on that."
Where there have been failures, the city must learn from them, he said.
The mayor said that 2010 marked many accomplishments and challenges for him both on a personal and professional level.
Bishop Norman L. Wagner, pastor of Calvary Ministries International, whom Williams called a mentor, died last year.
But 2010 also saw the birth of Ethan, the first child of Williams and his wife, Sonja.
Professionally, a national food chain announced plans to open grocery stores at several locations within the city. The VXI call center and other businesses are expanding, and student apartments are being built in the city for YSU students.
"The momentum has finally shifted," Williams said, to the applause of attendees.
The city also received recognition in national magazines for its potential for job creation.
Saturday's black-tie event was in support of the Mayor's Community Foundation, a nonprofit corporation that has given about $30,000 to organizations and grass-roots projects that have the goal of improving the community and quality of life for residents.