Home for people with mental disabilities has own issues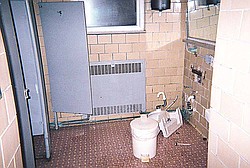 Special to the Vindicator

Photo
This bathroom, also photographed Dec. 15, shows broken and unclean fixtures. Area Agency on Aging 11 provided The Vindicator with the photos, shot to augment the state's monitoring of the facility.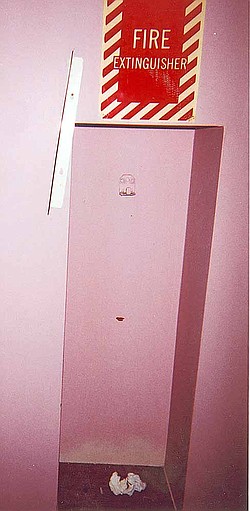 Special to the Vindicator

Photo
This photo of an empty fire extinguisher box was shot Nov. 30, 2010.
See also:
By Dan Pompili
newsoutlet.org
YOUNGSTOWN
The incident report details a confusing sequence of events: Three men. Perhaps a sexual advance. A bathtub. Maybe a fight. Then a call to 911.
The Youngstown Police Department is still trying to sort out exactly what happened in the minutes before Michael Lambert was found dead Nov. 11, 2010, in a bathtub at a facility that was supposed to keep him safe.
Police are still waiting on the Mahoning County coroner to determine if Lambert's death was a homicide or an accident.
The death is the latest episode in what has been a troubled history of a home for mentally impaired adults. House of Hope, formerly Bryson Manor, 115 Illinois Ave., was once affiliated with two now-shuttered residential mental-health facilities on the city's North Side: Covington House and Illinois Manor.
Over the years, state and local officials have investigated two deaths, two rapes and numerous abuses that have occurred at the homes. Fights, thefts and consistently poor state-inspection reports also plagued the facilities.
Owner Robert Van Sickle closed Covington House and Illinois Manor in July 2007. But Hope, which opened in 1993 as Bryson, remains open after being acquired by its former administrator and two others in January 2010. Today it is still home to about 55 people with impairments such as schizophrenia and bipolar disorder.
One Mahoning Valley official who oversees living conditions of more than 150 area homes and facilities said he thinks House of Hope is no better now than when it was named Bryson Manor.
"What we see, year in and year out with this facility, is ... the deplorable environmental conditions, the unclean, the unsafe environment, the risk of abuse, the risk of sexual abuse, the risk of physical exploitation," said John Saulitis, an ombudsman with Area Agency on Aging 11, a public-private partnership that uses public funds to oversee senior services in Ashtabula, Trumbull, Mahoning and Columbiana counties.
"We can't tell you where [mental health patients] should live," said Saulitis, a longtime critic of the facility. "What we can tell you is where they shouldn't live."
A challenging business
Hope has a difficult job: helping those society has cast out and whose complicated psychological disorders make their lives difficult.
Saulitis said the problem with places such as Hope and many nursing homes he is charged with overseeing is that there are few punitive measures, if any, to police the facilities.
"If there is no sanction short of revoking the license, such as fines or penalties, then you have to ask why this is allowed to continue," Saulitis said.
The Ohio Department of Health revoked Bryson Manor's license in 2009 for a series of sanitary and procedural failures. The facility was never closed, however, because Magistrate Timothy Welsh of Mahoning County Common Pleas Court overruled the state finding against Bryson.
Welsh ruled that due process was denied for Bryson because the state presented to the examiner parts of its inspection findings from all of 2008 even though it told Bryson it would present only November 2008 inspection results.
The Ohio Department of Health is again after the facility for safety and sanitary violations. The state gave House of Hope officials until Dec. 6 to address problems cited in a Sept. 21 inspection.
House of Hope's petition for an extension of that deadline was rejected. On Dec. 22, Dr. Alvin Jackson, director of the Ohio Department of Health, notified House of Hope administrators that "conditions exist that constitute a real and present danger." He cited:
The facility "failed to provide adequate supervision to ensure a safe living environment" in the case of Lambert's death.
The staff failed to intervene when a resident was seen with cigarettes and lighter fluid in his room, and there were no procedures to monitor unsafe behavior by residents who smoke.
Jackson warned if improvements were not made by Jan. 5, he intended to seek injunctive relief — a filing with the common-pleas court — to close the facility and transfer its residents elsewhere.
Jackson also prohibited House of Hope from admitting any new residents until the state's requirements are satisfied.
Jackson's office confirmed last week that House of Hope complied with the Jan. 5 deadline with a "plan of correction."
"We are now reviewing it," Tessie Pollock, the department's public-information officer, said Thursday. "It will not be public record until the review process is done."
Hope's administrators, Charlene Crissman and Lisa Lloyd, said they have worked to improve the facility since taking over ownership, but the battle has been uphill, citing financial difficulties and the nature of their residents.
"This is not a money-making business," Lloyd said.
"You have to have a heart for mental-health patients," Crissman said. "And I can say for certain that is one thing that myself, Lisa and [co-owner] Michael [Binder] have in common."
Crissman, who served as the administrator of Bryson Manor when it was owned by Van Sickle; Lloyd and Binder acquired the business from Van Sickle at no cost and began operating it in January 2010, although Van Sickle remained the business's legal owner until August.
Crissman said the building was in foreclosure, which they were unaware of until a mailed notification arrived. They acted quickly to buy the tax liens on the facility to save it, she said. Church groups, private donors and the owners' personal funds paid the necessary bills to keep the facility operating.
The foreclosure is on hold, and tax payments are current, according to the Mahoning County treasurer's office.
Records show challenges
Sean and Alan Courtright have mixed feelings about the care their 47-year-old brother received at Bryson, where he died.
Robin Courtright, 47, was the previous death at Bryson before Lambert. Courtright died in 2007 awaiting a transfer to a skilled-care facility where he could receive oxygen and some medical care, reports say. The coroner's report says he died of natural causes from his illness.
Alan Courtwright said he blames Hope for what he said was his brother's premature death, saying he had a "fear the whole time he was there."
Sean Courtright said Bryson staff members were loving and supportive.
"If I had any suspicions, I would say as much. I don't," Sean Courtright said.
Police, court and state inspection records reveal signs of trouble at the facility and other group homes affiliated with the former owner of House of Hope:
In March 2007, a resident was strangled at Illinois Manor.
The former human-resources manager for Bryson was fired in 2008 amid allegations of "improper employee-resident contact and interaction."
Police have been called to the facilities several times each week for years to investigate fights, missing people and thefts. In 2010, between May 9 and Sept. 12, there were 76 calls to 911 for help from House of Hope residents and staff.
"These places are supposed to provide quality of life," Saulitis said, questioning whether living conditions meet even a "minimum standard of care."
Crissman said Saulitis' comments are off base. She added that state inspectors have been overly critical in what they cite on the regular survey inspections.
"We can't pass a survey to save our life, but it's not for lack of trying," Crissman said.
The challenges at Hope, according to various police and state records, have been many and varied.
In some cases, Hope's residents are drug addicts and system abusers who, despite their mental disabilities, are still clever enough to manipulate police and medical-emergency responders to feed their habits, police reports show.
According to a Sept. 18 police report, one Hope resident confided to an ambulance driver that he stages fits to get transported to the hospital so he can obtain drugs for a "recreational purpose."
The police officer who wrote the incident report was frustrated with the Hope resident: "He is rapidly exhausting the resources of police, paramedics and hospitals. If these activities are not halted, I believe that another entity that may truly need emergency services may be made to wait while our limited resources are squandered."
In other cases, fights have erupted between residents and staff, with staff sometimes on the losing end.
A resident assaulted a social worker in April 2008 when she attempted to clean the resident's room. When Crissman arrived to assist the social worker, the resident punched Crissman and sprayed her in the face with a cleaning solution.
Crissman said they had attempted to have the resident removed from the residence months earlier, but that Saulitis fought them through an appeal process, forcing them to keep the resident in the facility.
She said she found it curious Saulitis would appeal a removal if he were so opposed to housing mental-health clients at Hope.
Saulitis said there are certain regulations in place that prevent arbitrary evictions, and he was only ensuring due process to protect the resident's rights.
After the assault, administrators were finally able to have the resident removed through legal channels.
There also have been thefts at the facility. Some of them were personal property, such as a laptop computer from a resident's room.
Issues with training, staffing
Staffing and training have been targeted by the state as concerns at Hope.
The facility maintains 17 staffers, with at least two caregivers on duty at all times, Crissman said. The other staff members include three kitchen workers, two maintenance workers, two housekeeping workers and one newly hired dietitian. Visiting nurses, physicians, psychologists and bath aides also come to offer services to some residents.
All of these services are paid through residents' Medicare and Medicaid.
According to Ohio Department of Health inspection reports, Hope was cited as recently as June for failing to ensure continuing education for administration and staffers. It also failed to ensure appropriate training in first aid, mental-health care, emergency and disaster procedures and dietary and nutrition practices, the state said.
Crissman and Lloyd, a licensed practical nurse, have extensive nursing-home experience: Crissman for 10 years before working at Bryson, and Lloyd for 22 years between nursing homes and prison health systems.
Crissman has no college degree in mental-health care. But she said she maintains her continuing-education requirements necessary for certification, as required by Ohio laws.
Crissman said she is pleased with her staff.
Staff turnover used to be constant, but "the staff we have now is the best I've seen in the 10 years since I've been here," she said.
Questions have been raised about staff ability, however.
One Youngstown police officer, in a July 10 report, chastised a House of Hope staff member for inappropriate actions and comments during a dispute with a resident.
"The actions and comments made by the ... staff worker ... were unprofessional and severely hampered our ability to resolve this issue. This person seemed to feel that if there were any client that disagreed with how care is rendered to them that the police should either arrest or remove these clients at [staff's] request," the officer wrote.
Melissa Novits, a city health department nurse, has been a critic of Youngstown group homes and has questioned why staff members failed to take action to prevent the 2007 strangling death at Illinois Manor.
In March 2007, resident Stephen Lawson was strangled at Illinois Manor. Resident James DiCioccio was accused, but was deemed incompetent to stand trial.
Shortly before the Lawson killing, DiCioccio assaulted another resident, police records show.
Novits and Lawson's family questioned why DiCioccio was not being monitored more closely after the first assault.
Youngstown police Lt. John Kelty, who responded to the scene, said DiCioccio had been refusing to take his medications.
"That's the problem with people like [DiCioccio]," Kelty said. "When they take their medications, they're fine. But you can't leave them alone in an apartment somewhere, because if they don't take their meds, there's no telling what can happen."
Kelty said the best place for DiCioccio was at a group home.
"They have some kind of structure there," he said. "The staff at least tries to make sure they get their medication."
DiCioccio has since been committed to a state mental-health facility in Northfield.
At the time of the incident, Novits said there was no required number of staff members for facilities such as Illinois or Bryson. The night Lawson was killed, two staffers were on duty at Illinois Manor, a 15-room, 3,500-square-foot facility next door to House of Hope.
Only one staffer is required during any 24-hour period for a residential facility such as House of Hope, although more may be needed, depending on the residents' needs, Saulitis said.
Crissman said at least two staffers are on duty at all times, and five were on duty Nov. 11 when Michael Lambert died there.
House of Hope is nearly four times the size of the former Illinois Manor, and housed 55 residents in 2010, compared to 16 at Illinois Manor in 2007.
Crissman said the facility's staffing needs are not the same as a nursing home or state mental hospital.
"We don't have a one-aide-to-eight-patient ratio here," she said. "We're a residential facility."
Death and Sex
According to the initial Youngstown Police Department report in November, Lambert, 59, was making sexual advances to another resident while that resident was in the bathtub. The bather called another resident to get Lambert to leave.
The incident report says that when Lambert refused to leave, the second resident left to smoke a cigarette outside. He was gone for five minutes. When he returned, he found Lambert in the tub, submerged in 18 inches of bath water, unconscious. The man who originally had been in the bathtub before Lambert was gone.
The Mahoning County coroner's office is treating the death as suspicious.
Crissman said Lambert, known as "Mickey," was a kind of a "mascot" around the facility and that he was well-liked. She also said his intellect was that of "a young child."
Crissman said Lambert could not possibly have understood the concept of a sexual advance, but that because of his autism, he may have been "handsy."
Lambert's brother, Richard of Groesbeck, Texas, said he does not believe the police report and agrees with Crissman that his brother could not understand the idea of sex. Still, Richard Lambert questions the whereabouts of the staff when his brother died.
"What were they doing while all this was going on?" he asked. "All I can tell you is, we've got something wrong here."
Jean Anderson, Lambert's sister, said her brother was deathly afraid of water and would never have gotten into a tub by himself.
Anderson further said that no administrators ever contacted her about her brother's death, though three aides attended his funeral and were visibly upset.
"We're not getting any answers right now," Anderson said. "There's something that dumbfounds me, because that wasn't a place for him. I could tell the day we walked in there."
This was not the first case of an alleged inappropriate sexual advance involving a local care facility.
In January 2008, the then-director of personnel at Bryson, Franklin J. Fowler Jr., was fired for improper contact with then-Bryson clients.
Fowler, who lived on the property, was accused of either visiting the residents in their rooms or calling them to his third-floor apartment.
State inspection reports from March 12, 2008, and Ohio Department of Health investigation records from Feb. 19, 2008, detail the accounts, as does a Jan. 31, 2008, Youngstown police incident report.
According to the reports, various employees said they saw the resident coming from Fowler's apartment at different hours, usually around 5 to 6 a.m. None of them reported it, one saying she assumed everyone knew and that she was afraid she'd be fired. She decided to "mind my own business."
According to a May 2008 Aspen Complaint/Incident Tracking System report from the Center for Medicare and Medicaid Services, "the facility fired [Fowler] on 1-28-08 for 'improper employee-resident contact and interaction' stating the abuse could not be substantiated."
That was followed by a journal entry June 4, 2008, filed by state health director Dr. Jackson citing "a reasonable basis for an allegation" that Fowler "abused a resident in January 2008 by engaging in sexual conduct." That entry was made into the health department's Nurse Aide Registry, which maintains records of those who have "had a finding of abuse, neglect or misappropriation of property against them" which would, in effect, bar them from future employment in such facilities.
Crissman, who was an assistant administrator at Bryson at the time, declined to discuss the issue at length but denied any knowledge of Fowler's acts.
"In a million years, I never would have thought that was going on," she said.
No charges were ever filed against Fowler. The case was transferred from the Youngstown police's detective division to city Prosecutor Jay Macejko, who said his office took the case as far as it could, citing a lack of evidence.
Youngstown's Lt. Kelty added that the reason for lack of prosecution could be that the victims were not competent to testify, and even in cases with competent witnesses, convictions are difficult to obtain.
The NewsOutlet is a joint media venture by student and professional journalists and is a collaboration of Youngstown State University, WYSU radio and The Vindicator.