Man who must pay $67K in restitution now faces perjury, bad-checks charges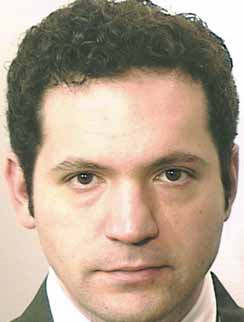 Photo
YOUNGSTOWN
David J. Venerose Jr., 40, of Sheridan Road, was indicted Thursday by a Mahoning County grand jury on one count of passing bad checks and three counts of perjury, all felonies.
The bad-checks count pertains to three rent checks for the Iron Shamrock bar, 8414 Market St., Boardman, which were sent to New Pioneer FLP, owner of the plaza where Venerose operated the bar under a $2,000-a-month lease. FLP stands for family limited partnership.
The checks totaling $8,600 were sent between Dec. 3, 2008, and March 31, 2009, according to the indictment.
In an interview with The Vindicator before Venerose was indicted, Sat Adlaka, New Pioneer's general partner, said the three checks, which he reported to Boardman police, were in the amounts of $2,100, $1,000 and $5,500.
Venerose operated the Iron Shamrock for less than a year after opening it in 2008.
Adlaka said Venerose had called him a few days before The Vindicator interview and left a message saying he would pay his debts to Adlaka.
The perjury counts allege Venerose lied three times under oath concerning material issues in a March 9, 2009, hearing in Mahoning County Probate Court concerning the guardianship of Geraldine Burke, an 89-year-old woman with dementia who resided in Boardman.
Venerose could not be reached to comment Thursday evening.
The bad-checks charge carries a possible six to 18 months in prison; and each perjury count carries a potential one to five years in prison.
The indictment does not specify what Venerose allegedly lied about during the hearing, in which Magistrate Vincent J. Wloch questioned Venerose extensively about the management and disposition of Burke's assets.
In a judgment entry referring the Burke case to the county sheriff's office for a criminal investigation, Probate Judge Mark Belinky wrote that he believed perjury occurred in the hearing, but the judgment entry wasn't specific as to who allegedly lied or what was allegedly lied about.
When a reporter informed him of the Venerose indictment late Thursday afternoon, Wloch declined to comment.
Ohio law requires the prosecution to have two witnesses testifying concerning the objective fact to support a perjury conviction.
Under questioning by Wloch, Venerose said he first met Burke in the late 1990s through his mother, Edith Venerose, who was a caregiver for Burke.
In documents Burke signed in October 2008, the Veneroses obtained authority to handle Burke's finances and health-care decisions if Burke became unable to handle her own affairs.
In February 2009, Judge Belinky voided those documents and froze Burke's bank accounts after he said social workers and law-enforcement personnel expressed concerns about Burke's living environment, care and finances.
In a settlement last month of a concealment-of-assets complaint in probate court, which was brought against him by Children and Family Services Inc., Burke's emergency guardian, David Venerose agreed to reimburse $67,560 in legal fees and restitution to Burke's guardianship estate over the next 16 years.
Edith Venerose was dismissed from the concealment complaint by visiting Probate Judge Denny Clunk.
Judge Clunk said there was "no finding of guilt" against David Venerose in the concealment case because there was a settlement agreement and no trial.
No criminal charges have arisen out of the concealment case.