New appliance store coming to Valley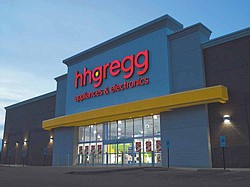 Special to the Vindicator

Photo
By late spring, the facade of the former Sofas Plus will be transformed into an hhgregg store, similar to the one pictured. The Indiana-based electronics and appliance company will open its 175th store on U.S. Route 224 in Boardman.
Hhgregg will bring 50 jobs, an official says
BOARDMAN
Representatives from hhgregg Inc., an Indiana-based electronics and appliance company, have confirmed a new store will open on U.S. Route 224 and will bring about 50 new jobs.
hhgregg will occupy 29,000 square feet on the site of the former Sofas Plus, 441 Boardman-Poland Road, near the Shops at Boardman Park, said Jeff Pearson, vice president of marketing for the company.
"We haven't set an exact grand-opening day yet, but the lease is signed, and as we get closer, we'll communicate what that will be," he said, adding it likely would be late spring when doors open.
By the time the Boardman store opens, it will be the 175th hhgregg location nationwide. Currently, there are 173 in Midwest, Southeast and Mid-Atlantic states and in nearby cities, such as Cleveland, Akron and Canton.
"We feel like we fit a very good need for the marketplace," Pearson said.
He compared hhgregg to Best Buy in terms of its selection of flat-panel televisions and other digital products, and also to Sears and Lowe's in terms of appliances. The company also provides Serta and Tempur-Pedic mattresses.
The store will carry more than 500 appliances in stock and have more than 100 flat- panel televisions on display, Pearson noted.
The deal was put together by local commercial real- estate firm Kutlick Realty LLC and took more than eight months to finalize, said Bill Kutlick, a broker with the firm.
"We're excited that we'll bring about 50 jobs to the local market," Pearson said. "The store will have management, sales associates, warehouse staff and customer-support representatives."
He added that the jobs should be posted online at www.hhgregg-jobs.com in "the near future."
Hhgregg was founded in 1955 in Indianapolis and will open 40 to 45 stores in the 2011 fiscal year, according to the company's website.
More like this from vindy.com