Area Artists Annual Variety of media showcases region's best work

Photo
Best in Show: Francis Lehnert, "The Studio"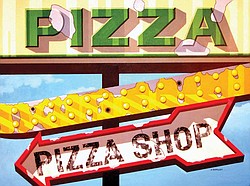 Photo
First Place: James O'Malley, "Pizza"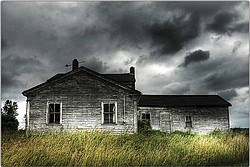 Photo
Seth Basista, "Dissonance"
IF YOU GO
What: Area Artists Annual Exhibition
When: Sunday through Feb. 6
Where: Butler Institute of American Art, 524 Wick Ave., Youngstown
Reception: An opening
reception will be from 1 to 3 p.m. Sunday. Admission is free, but reservations are required. Call 330-743-1107, ext. 210
By GUY D'ASTOLFO
YOUNGSTOWN
Some of the finest work by local artists will go on display Sunday when the Butler's Area Artists Annual Exhibition begins.
The juried exhibition, now in its 73rd year, is open to artists 18 and older who live within a 40-mile radius of Youngstown. Works in any media are accepted.
About 800 entries were received, but only 105 were selected for the exhibition. The juror this year was Mark Perrott, a Pittsburgh photographer whose own work has been exhibited at the Butler.
This year's entries run the gamut: watercolors, oils, digital, traditional, abstract. The AAA is being shown in two adjacent galleries on the second floor of the Butler.
"The art stands up pretty well, and there are some extraordinary pieces," said Lou Zona, director of the Butler, while walking through the exhibit last week. "It shows the level of talent in our community."
Best in Show went to Frances Lehnert of Kent for her pastel painting "The Studio." The piece depicts an artist at work from behind in his studio. The outside world is visible through the slats of venetian blinds. What makes the painting stand out is its references to art history, said Zona.
The piece samples Picasso, Toulouse-Lautrec and other masters, noted Zona.
First place went to Jim O'Malley of Struthers for his acrylic work "Pizza." Using bright, elemental colors, O'Malley depicts a weathered pizza-shop sign. Rows of light bulbs, with several missing, encircle the sign, calling to mind the faded joy of a former resort. "O'Malley is known for the hard edges in his paintings," said Zona.
Second place went to John Smolko of Kent for his large colored-pencil piece "Kandahar [Homage to Picasso]." The oversized work (46 inches by 48 inches) depicts broken toys.
Morry Moskovitz of Beaver Falls, Pa., won third place for his computer- assisted digital print "Sean."
Daniel Jimick of Freedom, Pa., received a Juror's Special Mention for his linoleum cut "Encounter," which depicts two people coming across an image of a crucified Christ.
"Cry Havoc," a serigraphy/frappage by Jack Carlton of Girard depicting wolves, also received Juror's Special Mention.
The Impressionist painting "Garden at Appremont, France" earned an honorable mention for Jance Lentz of Kent.
Mary Lou Alexander of Hubbard received an honorable mention for her fiber work "Until Justice Rains Down Like Waters."
Seth Basista of Youngstown's photograph "Dissonance" also received honorable mention.
Other recipients of honorable mentions include Frank D'Isa of Youngstown for his photograph "The Party Is Over"; Mary Kay D'Isa of Youngstown for her watercolor "Recycling"; Tazim Jaffer of Girard for her digital piece "Return to Ancestral Home"; Laurel Mitchell of Volant, Pa., for her piece "Come Morning"; and Rick Shale of Youngstown for his photograph "Childhood's End."
The Area Artists Annual was originally scheduled for November but was rescheduled, said Kathy Earnhart, Butler spokeswoman, because of a conflict with the museum's holiday craft show and sale.