Krinos resigns, denies try at suicide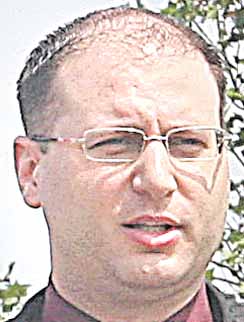 Photo
Campbell Mayor George Krinos
By Jeanne Starmack
CAMPBELL
George Krinos said his Tuesday resignation as mayor will allow more time with his family, and council President William Van Such is preparing to fill Krinos' term.
Krinos' resignation, effective immediately, came two days after a report of an attempted suicide at his Matawan Drive home. A police log, from 3:17 a.m. Sunday, indicates a report that "a man had eaten an entire bottle of Xanax pills."
Reached Tuesday as news of his resignation was being released to media outlets, Krinos confirmed an ambulance took him to the hospital.
He said, however, that he did not try to commit suicide.
"It was an allergic reaction," he said, adding that he had been at a wedding Sunday evening. He said he had some drinks, and alcohol reacted with medication he takes.
He called the report on the log "entirely wrong." He said he was released from the hospital Monday and he is fine.
Krinos released a prepared statement to the media and said he did not want to further discuss his resignation.
"I have fought as hard as I could to bring the change for which the citizens have elected me," the statement reads. "However, because of the resistance to change, my hands have been tied with little to nothing being accomplished."
"The position of mayor has left me with no time for family and no benefit for the city," he added.
He told The Vindicator he just wants to "blend into the background."
According to the city's home-rule charter, the council president fills a mayor's unexpired term. Council will elect one of its members to fill Van Such's post. Council will appoint someone to fill the empty seat.
Krinos became mayor in December 2009 after defeating longtime incumbent Jack Dill. His term was up Nov. 30.
Krinos and council often butted heads as the city tried to balance its needs with the mandates of a state commission that oversees it while it is in fiscal emergency, a status it's had since 2004.
Krinos offered to give up his health benefits so the city could use the money to pay for a full-time secretary in his office. He started taking the benefits in March and kept the secretary.
He also rehired a laid off firefighter to help with a manpower shortage in the fire department, even though council had not appropriated money for the firefighter.
Krinos dismissed a law firm that handled labor contract negotiations for the city, saying that move would save money. He went into police negotiations himself.
Van Such later said Krinos didn't advise council to send a representative in to the negotiations at critical times. A state conciliator ordered a raise for six of the police department's 12 officers in a contract signed in July. Council fought the order in court. That case is still pending.
"It was one thing after another after another," Van Such said. "The problems we've had with him, he caused."
Councilwoman Juanita Rich said she believes council did try to work with him, but he was inexperienced and did not come to council for advice.
"I wish him well in his future endeavors," she said.
Krinos tried several times to fire the city's finance director, Sherman Miles, and install his own choice for the post.
Council, which has the final say over who becomes finance director, blocked the move.
He finally tried to appoint an assistant finance director at a meeting in April that had to be adjourned when the crowd there got out of control. After that meeting adjourned, Miles and the new assistant finance director got into an argument. Krinos suspended Miles the next day for what he called unbecoming conduct.
Miles took Krinos to court, with council joining him as plaintiffs. They won a temporary restraining order returning Miles to work and dismissing the assistant, and the issue of a permanent injunction is still before the court.
Miles said Tuesday he would expect the case to be resolved soon.
"I've just basically been through hell this last year," Miles said. "This is going to be best for the city. The mayor and the council can advance the city toward a positive future rather than fighting with each other."
Krinos often said he was working to bring new business into the city, which was struggling so hard financially that it was under the threat of a shut down by the end of last year.
His secretary, Denise Sarigianopoulos, said she is disappointed.
"I feel really bad it worked out the way it did — for whatever reason," she said.
"I wanted so much more for this city," she said. "I wanted more accomplished."
"I wish him good luck in the future," said fire Chief Nick Hrelec.
Krinos also has an OVI (operating vehicle impaired) case pending in Columbiana County Municipal Court, stemming from an August 2010 arrest.