Chaney parent team to decide mission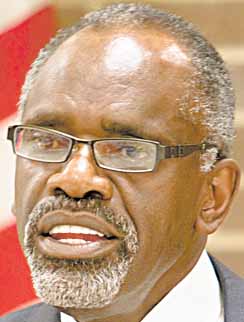 Photo
Youngstown City Schools Superintendent Connie Hathorn
By Denise Dick
YOUNGSTOWN
The city schools superintendent plans to allow the Chaney High School parent team to decide for itself what its mission will be.
Connie Hathorn, who logged his first day Monday as superintendent, conducted morning and evening sessions Monday with Chaney parents. The meetings were in response to reports of fights and other discipline problems at the school and the district's attempts to quell them.
Though the morning meeting drew only about 35 parents, the evening session saw about 100 attending, said John T. Allen, district ombudsman.
Parents volunteered at each meeting to serve on a team — nine from the morning session and about 15 from the evening gathering.
"I'm going to meet with the parents and get some input from them on how to get more parents involved," Hathorn said.
That may include formation of booster clubs and other activities for students.
"I want to get some feedback from them," he said. "I want it to be something that they come up with."
That will encourage ownership of a plan as opposed to Hathorn's telling the parents what to do.
The team isn't geared specifically toward resolving behavioral problems, but he hopes that the suggestions lead to improved behavior and a revival of school pride.
Parents at the morning meeting complained of a lack of school spirit, pointing to low attendance at school sporting events and even the absence of announcements about upcoming events on the outside marquee.
Hathorn believes the fact that Chaney isn't a neighborhood school contributes to the lack of school pride. The school serves students on the West and South sides of the city with some traveling by bus from six or seven miles away.
That creates a transportation problem if students want to participate in sports or extracurricular activities.
Hathorn also wants to revive Chaney's student council.
He's hopeful that the parent meetings and the team will produce positive change.
"I think it's a good start," he said. "I feel good about the whole thing."