See also: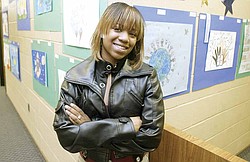 The Vindicator (Youngstown)

Photo
Ashley Boothe, a Youngstown State University freshman, is among youth who have benefitted through programs offered at Martin P. Joyce Juvenile Justice Center. She said JJC programs gave her a "second chance."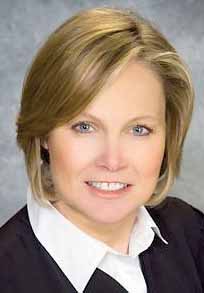 Photo
Mahoning County Juvenile Court Judge Theresa Dellick
By LINDA M. LINONIS
YOUNGSTOWN
Fractured families find hope and help at Mahoning County's Martin P. Joyce Juvenile Justice Center.
Mahoning County Juvenile Court deals with juvenile offenders, and JJC provides free programs from prevention to treatment that positively change the lives and improve the lifestyles of youths and their parents. Among departments are Sports, Parent Project, Kids in Need of Direction, Court Mediation and Counseling.
"We don't invite people here. They're brought here," Judge Theresa Dellick said. But, she said, "We want them to leave by the front door, to a new and healthier way of life rather than the back door ... to juvenile prison."
People may assume the judge determines the fate of all offending minors. She has that authority, but she prefers to engage them in counseling and activities that will make them masters of their own futures.
But, to be clear, if a minor presents a danger to himself or herself and the safety of others, Judge Dellick uses her authority to make certain they get the appropriate help in a supervised situation. "I'm obliged to protect the public," she said.
The judge admitted that some youths are "damaged too deeply" and can't be reached. But that's a small number compared with the successes that number in the 90 percent range at the JJC.
Judge Dellick, presiding and administrative judge, has a broad scope of jurisdiction. JJC deals with juvenile traffic offenders, delinquents and unruly minors and abused, neglected and dependent children. The court also hears and determines temporary and permanent custody of children, matters of parentage, child support, visitation and adult behavior in the care of a child.
That's the legal side.
"We don't want to see them back here," she said.
Troubled youths would be "doomed to repeat" their mistakes and problems if the JJC didn't have a host of programs to help them modify their behavior and live a more positive lifestyle.
"We want to give them hope and a chance at a new life," she said.
Ashley Boothe, a Youngstown State University freshman, has that chance. "This is my life. I want to write the story," she said, noting the JJC programs gave her a "second chance" after she was involved with the "wrong set of friends."
A first offender, Boothe said she "learned to be responsible" for herself.
Tonya S. Jones, a diversion officer, said Ashley "had the potential. ... We were here to help her."
The people side of JJC respects the law, of course, but offers free assistance to parents dealing with unruly children and help and activities for the children themselves. These include a myriad of services to help parents and youths get on the right track and stay there.
These fall under the umbrella of the Department of Youth Services administration headed by the Rev. James Barkett. He came to the JJC in 2005 as chaplain and director of faith-based counseling for youths.
Judge Dellick said she knew she wanted him to work at JJC because she had heard of his rapport with students as a substitute teacher in Mahoning County. He is an Orthodox priest but not affiliated with one church.
"We don't push God, but we want to show the youth there's a better lifestyle," Father Barkett said. "The judge knows she has serious decisions to make. ... She wants to explore all options."
DYS administration helps youths in trouble stay off of the official court docket and prevent official charges from being filed. But to do so, the youth and parents or guardian must participate in applicable programs offered at JJC.
These programs are funded by grants and Ohio Reclaim, Father Barkett said. Ohio Reclaim reimburses money for services provided at the local level and not sent to Ohio Drpartment of Youth Services.
The general fund to operate JJC comes from county taxes. The 2011 budget is $5.7 million; 2010 was $5.5 million.