Kelly Pavlik to be released from Betty Ford Center today After rehab, now what?

Photo
Kelly "The Ghost" Pavlik during a news conference in Beverly Hills, Calif. Monday, Feb. 11, 2008.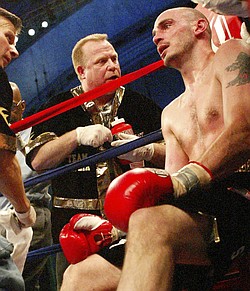 Photo
Pavlik-Martinez fight night.
By Joe Scalzo
YOUNGSTOWN
Kelly Pavlik is set to return to Youngstown. It might not be long until he returns to the ring.
The former middleweight champion is scheduled to be released from the Betty Ford Center in Rancho Mirage, Calif., today after spending the last two months getting treatment for alcohol abuse.
It was the second stint in the facility for Pavlik, whose drinking problems have grown worse over the past few years, coinciding with the decline of his boxing career.
"I'm elated that he's coming out, and I just hope that everything sticks this time," said his promoter, Top Rank Boxing chairman Bob Arum.
Pavlik, 28, entered the facility Nov. 4, a few days after withdrawing from a scheduled Nov. 13 fight with Bryan Vera. Although Pavlik canceled that bout due to a rib injury, his behavior in the ensuing days — including being kicked out of the downtown Lemon Grove on Halloween night — persuaded his family to confront him and urge him to check into the famed rehab center.
Pavlik's co-manager, Cameron Dunkin, told ESPN.com that the fighter has been working out in the rehab facility and is eager to resume his boxing career.
"He's real hungry and wants to come back," Dunkin told the site, adding that Arum has offered Pavlik a spot on the undercard of the May 7 Manny Pacquiao-Shane Mosley bout at the MGM Grand in Las Vegas.
Arum, however, said that report is premature.
"I don't know where that came from," Arum said. "I'm not going to put any pressure on [Pavlik]. If he's ready to go on that date, and that's what he wants, we'll support him 100 percent.
"The first thing is, he's got to be OK. If he's OK, we stand behind him. And when he's ready to come back to boxing, if he is, we will support him."
Pavlik's first stint in the Betty Ford Center came last April, less than two weeks before losing his middleweight belt to Sergio Martinez. He has not fought since.
Calls to Dunkin and co-manager Mike Pavlik Sr. were not returned Monday. Pavlik's trainer, Jack Loew, said he was aware of the release but said he has not talked to Pavlik and would not comment publicly until he does.
Since winning the middleweight titles in September 2007, Pavlik has struggled to maintain his championship form. Although he held the title for 21/2 years, his defenses came against lesser-known challengers.
Pavlik suffered his first loss in October 2008, a unanimous-decision defeat to Bernard Hopkins above the middleweight level, and was forced to cancel 2009 bouts against Sergio Mora and Paul Williams due a staph infection in his hand.
The low point came in April, when Pavlik wore down in the later rounds against Martinez and lost the belts by unanimous decision. After taking the summer off, Pavlik was scheduled to fight Vera on the undercard of Pacquiao's main event with Antonio Margarito in Dallas.
That bout was to serve as both a tune-up and a chance for Pavlik to regain his stature and popularity in the boxing world. Instead, his career took a two-month detour.
Only time will tell if he gets back on track.