9 Chaney parents to help with discipline issues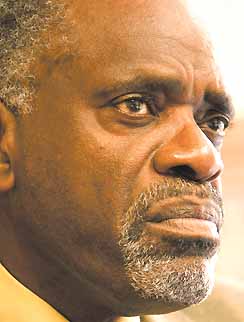 Photo
Youngstown City Schools Superintendent Connie Hathorn
By Denise Dick
YOUNGSTOWN
They talked about a need for better communication and a problem with bullying, and when the meeting was over, nine parents volunteered to be part of a team aimed at addressing problems at Chaney High School.
About 35 people attended a meeting Monday called by Connie Hathorn, the new city schools superintendent, with Chaney parents to discuss ways of improving discipline problems at the school.
"We cannot let any student disrupt the learning of other students," Hathorn said. "It's not fair."
Intervention must be provided for students who are disruptive, he said.
There have been reports in recent weeks of fights and other problems at the school.
Hathorn said the problems require cooperation of teachers, administration, staff, students and parents.
He acknowledged that there's a problem in the schools in three key areas: relationship, communication and trust with parents.
"We have to do a better job of communication with the parents," he said. "And you have to trust us, and we have to trust you."
Claudia Harris, whose son is a freshman, said he's been a victim of bullying in school. Other kids knock his books out of his arms as he's walking down the hall, she said.
When he talked to a teacher about it, the teacher told her son to stay out of those students' way. Harris is upset because no one from the school notified her about the problem.
She learned about the bullying when her son told his doctor after she took him to the physician — because he was losing patches of his hair because of stress.
Harris told her son not to tolerate the bullying, and he got suspended for fighting.
While she volunteered to serve on the parents' team, she plans to remove her son from Chaney and send him to a different school.
Dawacia Muldrow has a son who is a senior at Chaney, and her daughter graduated in 2009.
She sees a problem with teachers who are afraid of the students.
"How are you going to teach if you're afraid of students?" she said.
Muldrow wishes schools would bring back the paddle.
When her daughter first transferred from Girard to Chaney, she talked back to the principal at her new high school.
Muldrow went to the school, took her daughter home, paddled her and then took her back to school. She says her daughter didn't have any more incidents at school.
Muldrow also volunteered to serve on the parents' team.
Parents and the schools have to work together, she said.
Joseph Joe Jr. volunteered too. His two granddaughters, in 10th and ninth grade, attend Chaney.
He was disappointed that more parents didn't attend the morning session Monday.
"This auditorium should have been full," Joe said.
He makes sure that his granddaughters, of whom he has custody, do their homework and follow rules. He's willing to help the district if he can.
"I'm going to do my part," he said.