St. Elizabeth Final Service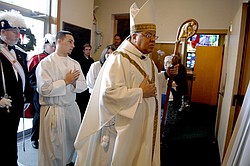 Gallery
RAMI DAUD | THE VINDICATOR The final service at St. Elizabeth Church in Campbell Sunday January 3rd, at 9am. As part of the parish implementation plan, the church will close it's doors and it's parish will relocate to other churches within the diocese because of decreasing membership, inflating costs and lack of priests.
Sadness, resignation, anger mix at closing of 88-year-old Campbell church
By Sean Barron
CAMPBELL
After 88 years, thousands of Masses and countless baptisms and confirmations, St. Elizabeth's Church has closed its doors for good.
Sadness, anger and looks of resignation were evident on the faces of the hundreds of parishioners who filled the pews for Sunday's 9 a.m. Mass, which was the final liturgy at the church, 124 Keystone St. St. Elizabeth's celebrated its first Mass in April 1922.
For many people such as Diane Michelini, the church's closing was comparable to losing a family member.
"It's like a death in your family," said Michelini, who became a member in the late 1960s.
Michelini, of Campbell, recalled having been ill and on bed rest after a pregnancy. During that difficult time, she watched on TV as Monsignor Cyril Adamko celebrated Mass and prayed, then she decided the church was the right fit, Michelini said.
Adamko was pastor from 1967 to 1995. He also offered words of reassurance to the congregation Sunday.
St. Elizabeth's was an anchor for the Michelini family during other difficult times, such as her husband's job loss when many of the area's steel mills closed in the late 1970s and early 1980s. At that time, the family developed a close relationship with the church, many members of which helped, she recalled.
"It's kind of like there's no place like home. My heart hurts today," said Michelini, adding that the Nov. 21 baptism of her 3-month-old grandson, Rocco S. Michelini, was the church's last.
Accompanying Michelini at Sunday's Mass were her daughter and son-in-law, Lisa and Ron Osiniak; son and daughter-in-law, Steven and Suzanne Michelini, Rocco's parents; and grandchildren Carli Osiniak, 6, and 7-year-old Isabella Michelini, who helped decorate the church for Christmas.
The church's closing is part of the Roman Catholic diocesan Parish Implementation Plan in the Diocese of Youngstown. The plan, developed last year, calls for the consolidation and closing of certain Catholic churches in the Diocese, which covers six Northeast Ohio counties.
Bishop George V. Murry of the Youngstown Diocese said he hopes the building will be used for church purposes but added that no decision had been made. In the meantime, various religious artifacts will be moved and stored for safekeeping, he said.
That's small comfort, however, to many parishioners such as 21-year-old Kayla Hankey of Campbell, a lifelong member who has battled leukemia since age 6.
"The people here are just wonderful," she said, fighting back tears. "For eight years, I've been cancer free, thanks to the church's assisting me."
Hankey said she will always be grateful that many members and church leaders visited her in the hospital during her illness, as well as for fundraisers on her behalf. One such effort was a blood drive at St. Elizabeth's to help her find a match for a bone-marrow transplant, Hankey noted.
The church also holds a special place in the hearts of Edward and Ann Hudak of Boardman, who were married there Jan. 18, 1947.
"I feel sorry we have to change parishes. The building will stand, but our memories will be with us," said Edward Hudak, who fondly recalled his 1931 confirmation at the church.
Memories and appreciation for church traditions also abound for Lisa Romito, the Hudaks' great niece, who passionately remembered attending the 4 p.m. Mass each Saturday with her grandmother, Agnes Kinnick, when Romito was a child.
"Everything I know about church and God I learned here," the Poland woman said.
Romito attended Sunday's last liturgy with her father, Joe Kinnick; sister, Keri Vokish; daughter Alyssa, 12; and 3-month-old niece, Aubrey Vokish.
"I feel like we lost part of our family," said Carl Workman of Coitsville, who joined St. Elizabeth's in 1973 and served 19 years as a cantor.
The 21-year Air Force retiree and his wife, Marian, said they appreciated the solid education their daughter received at the church, as well as fellow parishioners' reaching out to Carl Workman when he was ill.
Several members said they plan to attend one of Campbell's other four Catholic parishes.
It's deeply sad to see the closing of the building, largely because of a priest shortage in the diocese, expensive repairs, financial challenges and many people moving from Campbell, said Bishop Murry, who delivered Sunday's homily. Nevertheless, it can be a time for hope, in part because parishioners' faith, traditions and love will continue, he explained.
The church is not mainly a place, "but all of your yesterdays gathered into your todays to build a better tomorrow. In other words, it's you," he told the somber standing-room-only crowd.
The Mahoning Valley saw an influx of Slovak people from the 1870s to the 1920s, many of whom found work in the steel mills and as laborers. One of St. Elizabeth's early priorities was to help the new arrivals become acclimated to the area and did so in part by offering classes in English and citizenship, Bishop Murry noted, adding that it wasn't long before St. Elizabeth's became more diverse.
The church also developed a reputation for helping people who were less fortunate, Bishop Murry said, adding that he's very pleased with those who have served.