Brrrr! 150 take part in New Year's Day plunge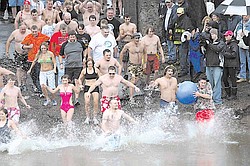 The Vindicator (Youngstown)

Photo
About 150 people plunged into the Shenango River in Sharon, Pa. for the third annual Polar Bear Jump on Saturday.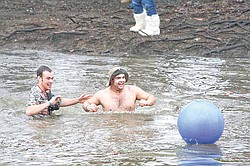 Special to the Vindicator

Photo
Brian Daniels of Champion, left, and Jake Waltermire of Leavittsburg wade to their beach ball in the Shenango River Saturday during the third Annual Polar Bear Jump.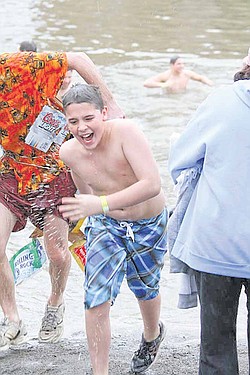 Special to the Vindicator

Photo
Dustin Murray, 12, of West Middlesex, Pa., runs out of the Shenango River. Saturday was the first time he participated in the Polar Bear Jump.
By ELISE McKEOWN SKOLNICK
SHARON, Pa.
Music blared, creating a partylike atmosphere for the people filling the Quaker Steak and Lube parking lot. Many held umbrellas as rain, rather than snow, fell.
The air temperature – about 54 degrees – was the warmest it's been for the Shenango Valley Polar Bear Foundation's annual New Year's Day plunge.
But the water of the Shenango River was cold at the third annual event Saturday – about 37 degrees.
"It was actually a lot colder than I thought it was going to be," said Jennifer Yarian of Sharpsville, Pa. "You jump in there, and you try to get out, and you can't move. But it was worth it. It was fun."
Yarian went all in, ducking her head under the water and coming out dripping, in true polar-bear fashion.
But, she said, her toes suffered the most. Though she wore shoes into the river, her toes ended up very cold, she said.
This was Yarian's third year participating in the plunge. She tries not to think too much about it before going in, she said. And when it's over, she hurries to her car to change clothes.
The 150 participants jumped into the cold river for a reason – to raise money for the homeless.
Though it's free to participate, proceeds from T-shirt sales and a 50/50 raffle benefit Joshua's Haven homeless shelter in Sharon. Donations are also accepted.
Matt Lenzi and his niece, Tori Lenzi, started the club.
"We used to go to Pittsburgh to do this," he said. "And we thought, well, why drive all the way to Pittsburgh? We have a river right here and we can do our own."
The event has gotten bigger every year, Lenzi said.
"I think just the popularity of an extreme event that's free [is the reason]," he said. "Who can resist that?"
The pair decided to make raising money for Joshua's Haven the mission of the club.
Last year, when the air temperature was in the teens and the water was 30 degrees, roughly 100 people participated. They raised $1,200.
"It's cold out this time of year, nobody should have to be in the cold," Lenzi said. "This gives us a way to help somebody out who's maybe having a bad time in their life or something like that."
And jumping in the river helps build empathy, he pointed out.
"You jump in a freezing cold river, you know what it's like to sleep on a street corner if you have to," Lenzi said.